Return to Blog
August 6, 2021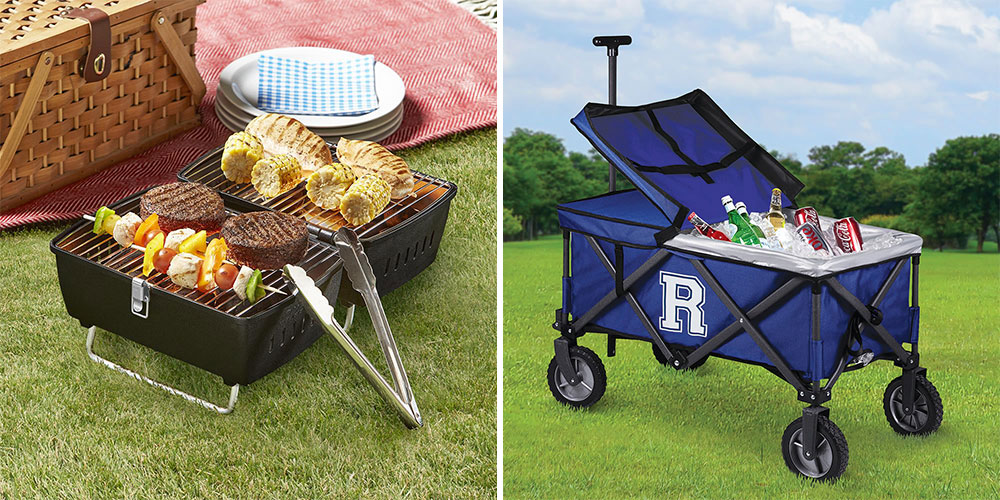 In Medieval times, outdoor feasts were held to celebrate a successful hunt, but the picnic as we know it is believed to have begun in France in 1789 after the French Revolution opened the royal gardens to the public for the first time. The pastime grew in popularity during the Victorian Era in England. What better way to celebrate this centuries-old tradition than by planning some summer picnics of your own? We have suggestions for accessories that would make great additions to your own picnic or as unique gifts for friends and family for al fresco dining.
While the traditional wicker picnic basket may have sufficed during the Victorian era, today's picnic goers and all their gear require a carrier with more capacity and convenience. The Personalized Movable Feast Cooler Cart transports a family's feast or a couple's consumables over any terrain. This folding beverage cart comes with an integrated PVC cooler insert that accommodates up to 225 lbs. of ice, drinks, and food. It rolls easily to your designated picnic spot on heavy-duty rubber wheels and can be personalized with a letter so there is no mistaking its ownership.
There's no need to limit your picnic menu to cold sandwiches and chilled salads. For those whose tastes run more towards a well-done burger or tube steak, fire up The Portable Picnic Grill. This mini charcoal grill weighs about 5 lbs. and folds up like a suitcase for easy transport to a park, fishing boat, or apartment balcony. When opened, it provides enough grilling area for eight burgers or 16 lamb skewers.
If there's one thing that can spoil an otherwise idyllic outdoor meal, it's unwanted guests, particularly the flying, six-legged variety. The Outdoor Mosquito Thwarting Canopy drapes over a patio umbrella to provide safe and odorless protection from mosquitos and other insects. The sheer polyester netting allows sunlight and breezes to pass through while Permethrinan—an EPA-registered synthetic insecticide bonded to the canopy fibers—keeps bugs at bay without DEET or fragrances.
Another hassle every picnic goer struggles with is keeping a picnic blanket free from sand and dirt. The Four Person Sandless Beach Mat solves this age-old nuisance by instantly filtering sand through its two woven layers back to the beach. Soft as a blanket, it also eliminates dirt and dust from its surface and is water-resistant to enable easy clean up. To keep items inside the picnic area, and dirt outside where it belongs, unfurl The Enclosed Protective Beach Mat. This lightweight, water-resistant hexagonal beach mat has raised sides that contain towels, toys, and food, while creating a barrier against blowing sand, pests, and dirt.
Condo or apartment dwellers, we haven't forgotten you either. The Instant Wooden Deck Table mounts over a deck or balcony railing to create an al fresco dining experience in a minimum of space. A Hammacher Schlemmer exclusive, this clever wooden table can serve as a dining table for two, a party's drink station, or a mini card table. Made from naturally water-resistant acacia, its tabletop surface provides ample space for two place settings and supports up to 40 lbs.
The summer season will be over before you know it, so start planning a unique gift for your family, a day of picnic-style dining in the great outdoors.