Return to Blog
June 11, 2021
Discover Your Inner Artist…It's Never Too Late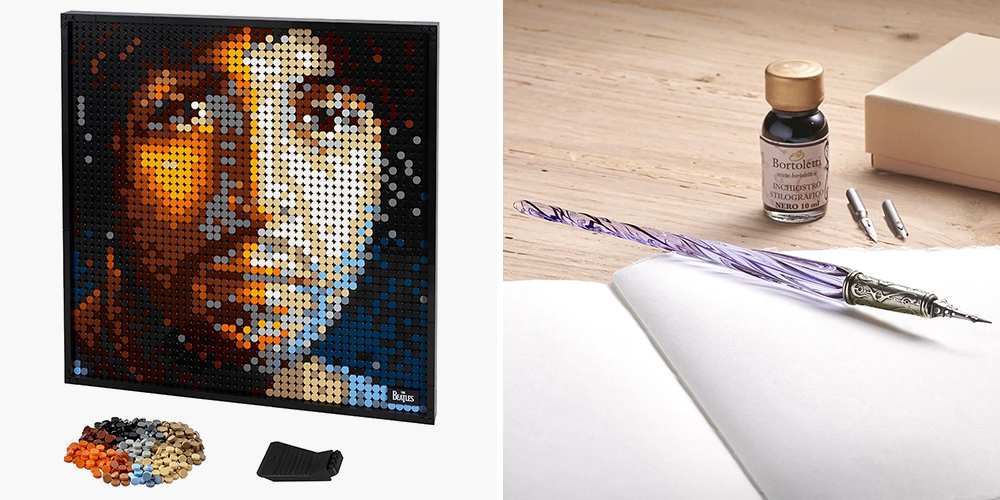 Some of this world's most famous artists took up the craft later in life. Grandma Moses didn't start painting till her late 70s, after retiring from a life of farming. Claude Monet dabbled in painting in his 30s, but it was only after his wife passed away more than a decade later that he got serious about it. Today, George W. Bush is spending his post-presidential life creating portraits honoring military veterans, exhibiting a talent hidden during his White House years. For a great many, spending the last year at home presented that golden opportunity to discover their own unique gifts of artistry. Whether your interest lies in drawing, painting, or just dabbling in the arts, we have some creative suggestions to feed your creative side.
In the age of e-mail and text messages, nothing sends a personal sentiment like a note written in your own hand. And nothing helps you master the ancient art of calligraphy like The Murano Glass Calligraphy Pen. Skilled Venetian artisans use time honored techniques to fashion liquified glass into a precision writing instrument with the distinctive swirling patterns for which Murano glass is famous. For those more inclined to stay inside the lines, paint by number art has seen a resurgence, thanks in part to coloring's ability to soothe and provide therapeutic relaxation. These paint by number kits include everything needed to produce a beautiful lighthouse scene or a delightful picture of songbirds gathered on a picket fence using the classic black-and-white numbered canvas and vivid acrylic paints.
Perhaps you prefer to take your art a bit at a time. If so, count yourself among the throngs who have helped fuel the explosion of interest in jigsaw puzzles. Besides giving you a fun and challenging way to appreciate a masterpiece, assembling a jigsaw puzzle also offers cognitive benefits that can improve problem-solving skills, sharpen your memory, and enhance your mood. These glare free jigsaw puzzles let you recreate a classic by Van Gogh, Da Vinci, and Seurat without causing eyestrain. Each piece is made with a unique linen material that reduces glare—a common complaint among dissectologists when assembling ordinary puzzles.
Maybe you like to work in mixed media? If so, you'll appreciate The Lego Arts Beatles, a unique mashup of art, music, pop culture, and engineering. This unique puzzle lets you create a portrait of John, Paul, George, or Ringo as they appeared in the Beatles' famous White Album using almost 3,000 perfectly proportioned Lego pieces rather than irregularly shaped shards of cardboard.
Finally, here's a product for those whose passion lies in curating rather than creating. The Home Art Museum is a WiFi digital canvas that turns any wall of your home into a museum of true-to-life masterpieces. Its 27" high definition display uses proprietary technology that lets you see every brushstroke just like a museum original. It comes pre-loaded with 100 priceless works—you can also display masterpieces created by your grandkids.
Life brings changes…as we become empty-nesters, face retirement, or find ourselves less able to pursue athletic hobbies, tapping the inner artist is a fulfilling means of expression. Why not give it a try and meet the artist hiding inside of you.