Return to Blog
September 1, 2021
Back-to-School Gifts Get an 'A'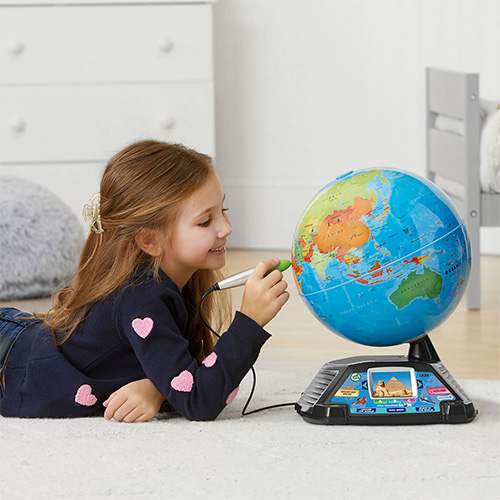 Did you hear that? No, not the school bells ringing…the collective cheers of parents overjoyed the new academic year is here. Help ease a student's transition from the carefree days of summer back to the structure of the classroom with unique gifts to make them as happy as mom and dad about the new school year. We have brilliant suggestions for kids of all ages.
For the elementary school student: The Children's Interactive Teaching Globe cleverly packages an atlas as entertaining video games that help children learn about countries, cultures, and world geography. Kids point a stylus at the 10" globe which then presents facts about a specific location through a built-in speaker. It also plays more than 600 live-action videos by BBC on a screen in the globe's base, as well as plays national anthems, calculates distances between cities, and leads children on scavenger hunts.
For the high schooler: The Phone Charging Atomic Alarm Clock simultaneously solves two problems for the parent of a high school student. First, its large bright color display keeps incredibly accurate time anywhere in the lower 48 states by synching with the U.S. atomic clock—which means no more blaming the clock for oversleeping. Second, it makes sure your student's phone is fully charged as they head out the door, even if they are not. A one-amp USB port on the side of clock provides fast overnight charging and helps tame nightstand clutter.
For the college student: Hitting the books. Making new friends. Washing their own laundry for the first time. It all can stress out a new college student. The Hypnotic Jellyfish Aquarium helps them restore a sense of calm as they watch two synthetic jellyfish (no feeding!) glide along the gentle currents within their mini-tank. The aquarium has 18 LEDs that gently change color to add mesmerizing ambience to a dorm room and help even an unnerved undergrad drift peacefully off to sleep.
These brilliant and unique gifts will score highly with the students in your life and get A's for both effort and execution.