Hammacher Schlemmer Introduces The Beachgoer's Reading Room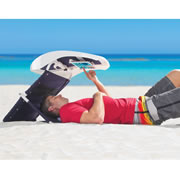 The Beachgoer's Reading Room
New York, NY, July 20, 2017 - Continuing its 169-year history of offering the Best, the Only and the Unexpected, Hammacher Schlemmer introduces The Beachgoer's Reading Room, a portable sunshade that cocoons outdoor bibliophiles from the sun's glare and provides screen readers with a universal tablet holder.
Ideal for use at the beach, on a ship, or lounging by the pool, its patented adjusting top tilts up 180° or down 20° to block the sun's rays and reduce the wash out effect of LCD screens in direct sunlight.
"Outdoor reading is a relaxing summer pastime," explained Hammacher Schlemmer's General Manager Nick DiMarco. "This unique accessory helps make the experience more enjoyable and less strenuous by allowing users to read digital screens with ease."
Made from 100% acrylic canvas, the canopy provides 50+ UPF protection and can connect to a chair or beach lounger with included furniture straps or used independently while lying on a towel. Built-in pockets keep books, e-readers, and other items secure using hook-and-loop fasteners. The powder-coated aluminum frame resists weather, sun, and sea-salt exposure. Folds flat for compact storage and easy portability.
The Beachgoer's Reading Room is available from Hammacher Schlemmer for $149.95. For more information about this product, please visit https://www.hammacher.com/product/beachgoers-reading-room, or contact Trish Hammond at (847) 581-8987 or via e-mail at pr@hammacher.com.
About Hammacher Schlemmer
Hammacher Schlemmer is America's longest running catalog, offering the Best, the Only, and the Unexpected since 1848. The company provides unique products that solve problems or represent the only one of their kind, and backs its products by a rather famous Lifetime Guarantee of Complete Satisfaction. Hammacher Schlemmer's innovative offerings are available through its catalog, online at www.hammacher.com at its landmark store on East 57th Street in New York City.