Return to Blog
January 6, 2022
Home in on Fitness Resolutions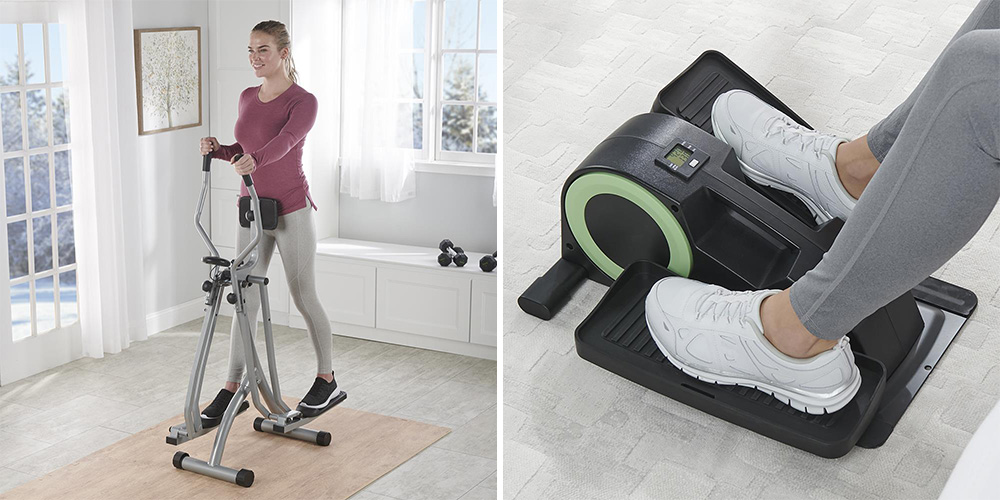 If you're like approximately 50 percent of Americans, you made a New Year's resolution related to health and fitness. Of course, with that many people hitting the treadmills, your favorite gym may be over-crowded in the weeks ahead, giving you an all-too-easy excuse to skip your workout. Consider working toward the unique gift of better health right in your own home! We have some ideas for easy and affordable equipment to make in-home exercise convenient and rewarding…making it more likely you'll stick to your goal.
For a full-body cardiovascular workout machine that's gentle on your joints and doesn't crowd your home gym, try stepping on The Low Impact Foldaway Strider. Its pedals and handlebars slide back and forth in a smooth, natural striding motion, providing a simultaneous upper- and lower-body exercise regimen without putting unnecessary stress on joints or ligaments. The strider folds to half its set-up size in seconds for storing out of the way in a corner or closet.
Rowing is considered an excellent way to build strength and endurance, providing you have the stamina to choose from the dizzying selection of rowing machines available. Fortunately, the Hammacher Schlemmer Institute has done the heavy lifting for you by conducting detailed research and side-by-side tests to find The Best Foldable Rower Under $400. This compact rower has a belt drive with eight levels of magnetic resistance that provided a smoother rowing movement than other tested models. It was also found to be the most well-constructed thanks to precisely machined parts made from superior materials, key components for rowers that are regularly folded, unfolded, moved, and stored.
The Walker's Foldaway Treadmill lets you get your steps in from anywhere in your home. Available only from Hammacher Schlemmer, this motorless treadmill's resistance is created by magnetic force, eliminating the need for AC power. Without requiring any tools or the removal of parts, the treadmill's walking platform folds flush with the handlebars to enable storage in a closet or against a wall. It features a sturdy steel frame with padded handrails, a large non-slip track, and a battery-powered monitor that tracks time, speed, distance, heart rate, and calories burned.
Turn hours in front of the computer or TV into exercise time. The Best Compact Elliptical Trainer earned The Best designation from The Hammacher Schlemmer Institute because it provided the smoothest operation with minimal noise. Ideal for multi-tasking while working out, it provides plenty of clearance for the knees under desks and its oversized, grippy pedals provide stable footing during both forward and backward elliptical movement, freeing hands for other tasks.
Of course, to help you stay on track with your exercise regimen, you'll want to regularly monitor your progress. The Best Talking Scale earned The Best rating by The Hammacher Schlemmer Institute because its readings were closest to those produced by a physician's beam scale, and its verbal readouts (in five different languages) were easy to discern, unlike other models that were plagued with poor sound. For visual confirmation of the scale's pronouncements, an LCD screen shows weights in large 1" numerals.
Finally, to stick to your fitness resolution past February 1, make sure you're doing it for yourself. While you may enjoy showing off your new look, better health is a unique gift meant for you, and you alone. You can find our complete selection of exercise and fitness gear here.