Contact Us
Ordering
Delivery
Returns
Services
Return to Blog
April 13, 2022
The Right Tool Gives A Green Thumb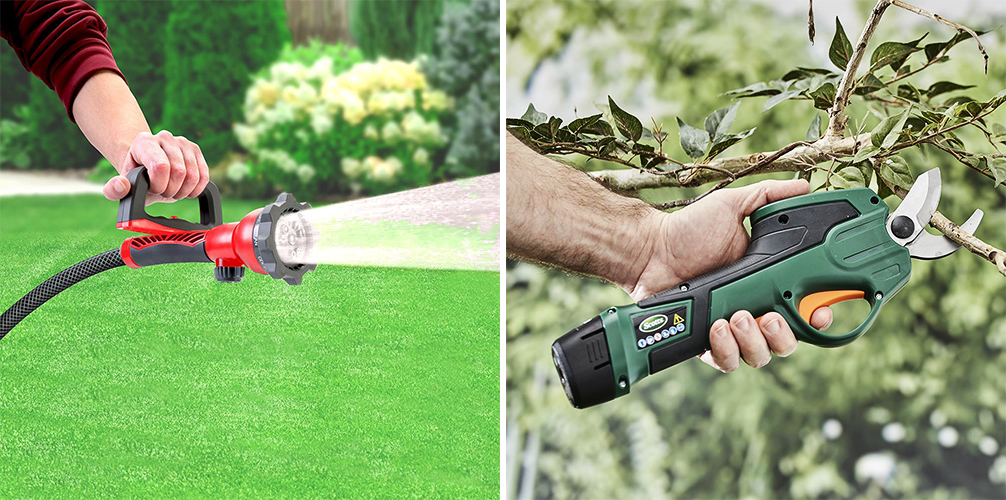 The last day of frost has already appeared around the corner in some parts of the country and is just about to in others, so it's time to make sure you're equipped with the right gardening tools to ensure the sights, smells, and tastes of this year's growing season
Before plants go in the ground, experienced gardeners make cleanup the first priority. The Cordless Effortless Branch Pruner is the tool to have for this effort because its powerful battery can cut dead branches up to 3/4" thick with the press of a trigger, making them ideal for anyone with arthritis or other manual dexterity issues. The Lightweight Cordless Power Weeder/Tiller is another handy tool to have in the shed or garage. With a 10-tine, 6"-diameter hardened steel blade that spins between 200-220 rpm, it quickly and effortlessly weeds and cultivates beds for half an hour from a full charge of its battery – all without having to bend over or get on one's knees.
Once the soil is ready, getting plants into the ground is made easier with The Cordless Powered Auger Shovel, which digs holes up to 7" deep x 3"-diameter three times faster than by hand. It uses a powerful electric motor that drives a steel auger into the soil while an integrated shovel scoops up the soil from the hole. Can also be used as a garden trowel without the auger.
Although it's certainly April Showers weather currently, hot dry weather is closer than you think, so having your watering solution ready to go is always a safe bet. The Easy Grip Hose Nozzle is built with a handle that rotates 90 degrees perpendicular to the a hose's axis to provide an fatigue-reducing grip. It can also remain in-line with the hose, allowing it to be held at the side like a pail of water. Nine spray patterns makes it ideal for gently moistening newly sown seed beds, soaking newly planted fruiting shrubs, or cleaning off mud from boots and tools.
Find these and more labor-saving (or labor-enjoying) gardening items on our Lawn & Garden page.
AMERICA'S LONGEST RUNNING CATALOG
Copyright 2023 Hammacher Schlemmer & Company, Inc. All Rights Reserved · AZPROD02