Return to Blog
March 5, 2021
Why You Should Consider Raised Garden Beds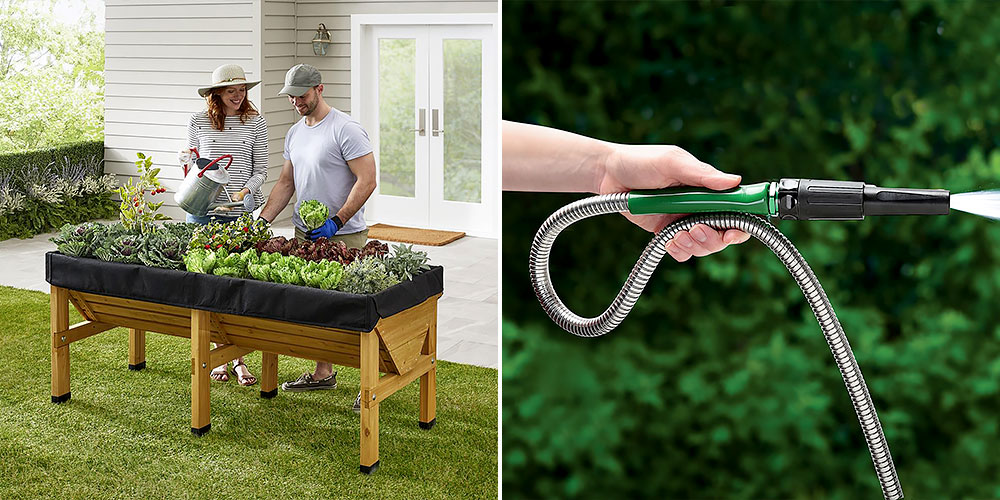 Springtime is just around the corner and this is the time to start planning for the growing season, whether one aspires to ornamental annuals, succession-planted perennials, or a full garden of fruits and vegetables. Having a good plan is one's best defense against fickle weather and persistent pests while at the same time keeps one motivated while the winter still lingers in certain parts of the country.
To Fence Or Not To Fence?
It pays to have the right tools at-hand when the weather finally cooperates. The time and patience taken in starting one's plants from seeds (or even buying young plants from a nursery) can be easily wasted if rabbits mow down a fresh row of baby kale or if one's dog destroys a carefully seeded bed of nasturtium. A fence can be a good defense, but to most gardeners, fences detract from the aesthetic of plants. A raised bed, on the other hand, provides numerous benefits:
1) It raises plants off the ground to put them out-of-reach of veggie-munching critters.
2) It raises the soil temperature to encourage earlier seed germination.
3) It reduces weeding when plants are intensively planted so that their leaves overlap one another.
4) It eliminates stepping into a garden after a rainfall, thus eliminating the chance of compacting one's soil.
5) It puts plants at one's waist level, reducing bending and stooping.
6) It is attractive and functional at the same time.
The Pest Thwarting Garden Bed keeps your plants safe from slugs, rabbits, and ground-based weeds. In addition, it has a fabric liner that allows drainage without losing soil. And its V-shape allows you to interplant a diversity of plants, such as root crops in the middle and shallow-rooted lettuces along the perimeter.
The Right Tool For The Job
Once plants are up and growing, getting water to them in the most efficient manner is critical to their health. But a sprinkler only broadcasts water onto plants – having a superior quality hose is key for year-after-year use. Typical hoses puncture easily and are known to kink at the precise moment water is needed. In extreme heat, a lesser hose can crack, and if it's left out during a hard freeze – let's face it… it happens! – they can burst.
The Indestructible Stainless Steel Hose is constructed from 304 stainless steel that resists pressure up to 120 PSI and has crush-proof aircraft aluminum fittings that ensure a firm connection to spigots, sprayers, and watering wands. It won't burst, crack, or kink – and best of all, it comes in 100', 75', and 50' lengths.
Keep checking back with Hammacher Schlemmer for more helpful tips and product recommendations