Five Ways Hammacher Schlemmer Trees Make Christmas Merrier
It's only through dedicated research, analysis, and testing that we've been able to identify five things that make choosing a Hammacher Schlemmer Christmas tree worthwhile:
Optimal width and the perfect height
Branch tips that look just right
Technology for the best light
Assembly that's a delight
When the holidays are over, they're easy to keep out of sight
The Space Defines The Tree
The best Christmases are ones when a tree topper stands fully upright and when a tree looks almost as if it belongs in a space year-round. We help you accomplish both with a careful look at the right height and width.
TREE HEIGHT
You'll want at least 6" of clearance between the top of a tree and your ceiling, which takes into consideration your preferred tree topper and any stand that may add height to a tree.
Therefore, if you have an 8' ceiling and a 6" tree topper, you'd be looking for a 7½'-tall tree.
Our trees' heights are measured from the floor to the topmost tip.

TABLETOP
For smaller rooms or on a table.
4 TO 5½ FEET
For lower-ceiling, top-floor/attic rooms.
6 TO 6½ FEET
For using taller tree toppers with 8' ceilings.
7 TO 7½ FEET
The standard tree for 8'-celing homes and 6"-high tree toppers.
8 TO 8½ FEET
For vaulted or tray ceilings.
9 TO 9½ FEET
For taller vaulted or tray ceilings.
12 FEET OR MORE
For grand, open interiors where height poses no impediment.
TREE WIDTH
Selecting one of our three widths helps you best fit your space, resulting in a holiday display that catches and holds attention.
Our trees' widths are measured from the widest point at the tree near its bottom.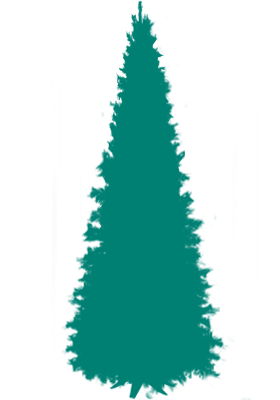 SLIM
Narrow and compact, but striking when placed in a tight space or corner.
Shop Slim Trees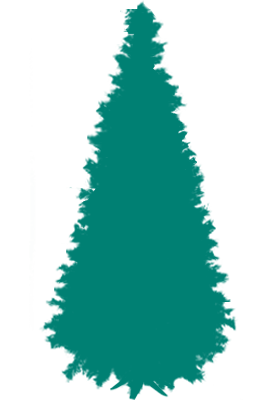 MEDIUM
A blend of girth and slenderness ideal for smaller rooms and condos.
Shop Medium Trees

FULL
The classic fullness of a Christmas tree from yesteryear.
Shop Full Trees
Branch Tips & Profile
Our trees authentically reproduce the needles and colors of the Noble Fir (Abies procera), Douglas Fir (Pseudotsuga menziesii), Fraser Fir (Abies fraseri), and Concolor Fir (Abies concolor) with three-dimensional, injection-molded polyurethane (PE) branch tips. Fullness toward the interior of the tree at the trunk is accomplished with subtly intermixed PVC.
The combination of PVC and PE branches and tips results in a tree's profile, also called its index. This is the degree to which branches protrude from the interior of the tree. A high index means a tree with longer gaps between each branch (your hand held with fingers spread apart) while a lower index means a tree with fewer gaps (just the outer profile of your fingertips when you keep your fingers together). Higher indexes provide more space for more ornaments; lower indexes provide less space, but support heavier ornaments.
Many of our customers will select a high-index tree for lots of ornaments and a second, lower-index tree for a less decorated, natural look.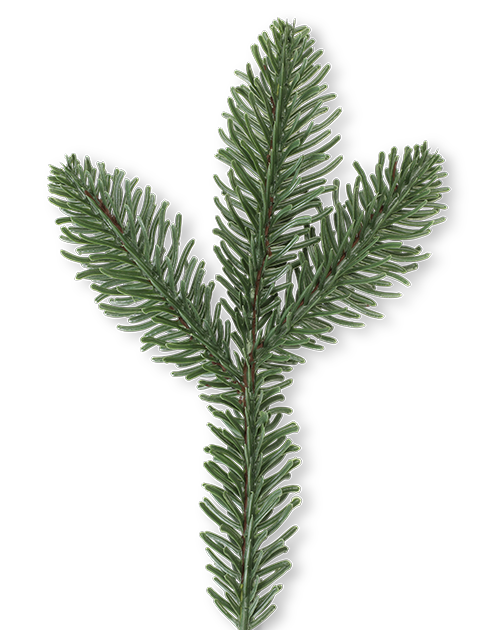 Noble
Our most popular tree, with long branches supporting flat yet slightly curving needles with blunt tips. Our Noble trees have a high index that yields a natural look that allows you to hang many different types, shapes, and sizes of ornaments and ribbons.
Shop Noble Trees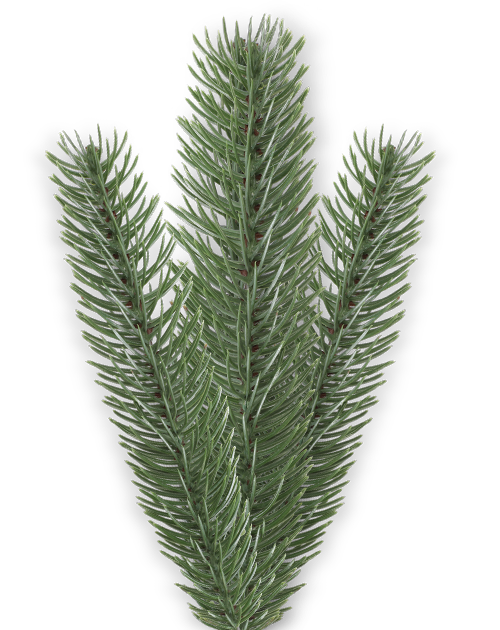 Douglas
Thick branches supporting long, tapered flat needs that protrude singly from a tip. Our Douglas trees have the least amount of index, resulting in a look of dense foliage with few spaces or breaks in its outer profile. Though with less gaps for hanging more ornaments, the long, thick branches are ideal for hanging heavier ornaments, but can still be decorated with any type of ornament or ribbon.
Shop Douglas Trees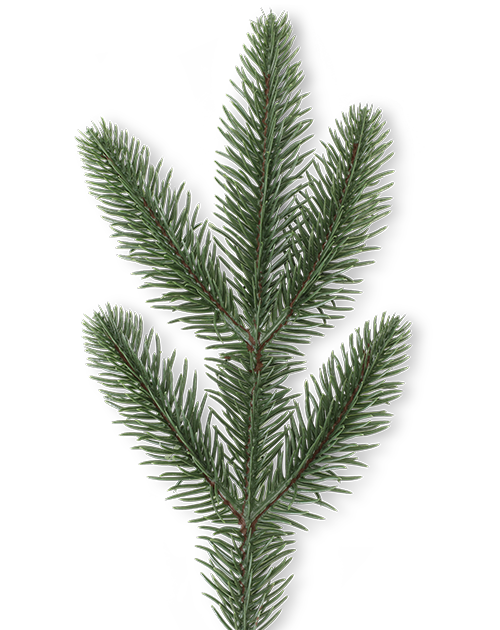 Fraser
Long narrow branches supporting flat, rounded needles in spiraling rows of two on each tip. Our Fraser trees have the highest index of all our trees, resulting is the classic Christmas tree look. Ideal for accommodating the greatest number of ornaments, long finials, or ribbons of any kind. Though a subjective measure, the Fraser is considered the most contemporary by some.
Shop Fraser Trees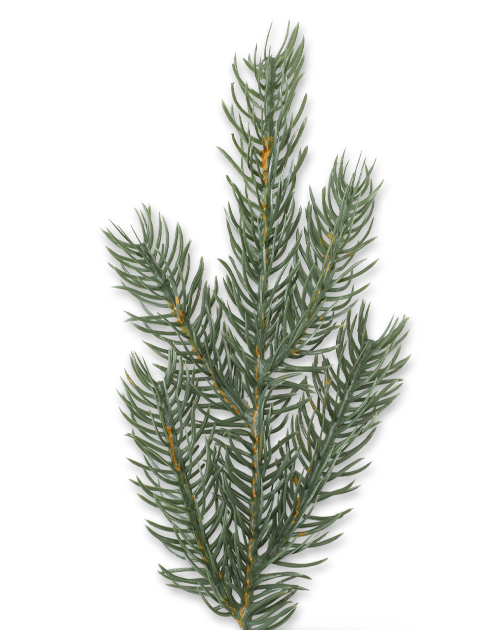 Concolor
Growing in popularity, with branches supporting thin needles with bluntly pointed tips that emanate from a tip in clustered ranks. Our Concolor trees have a lower index that provides both the benefit of ornamental variety and natural density.
Shop Concolor Trees
Lighting Technology
Each of our pre-lit trees are strung with the highest quality lights, whether traditional incandescent, LED, or fiber optic. Our Light Show trees use LEDs for a dazzling display of light.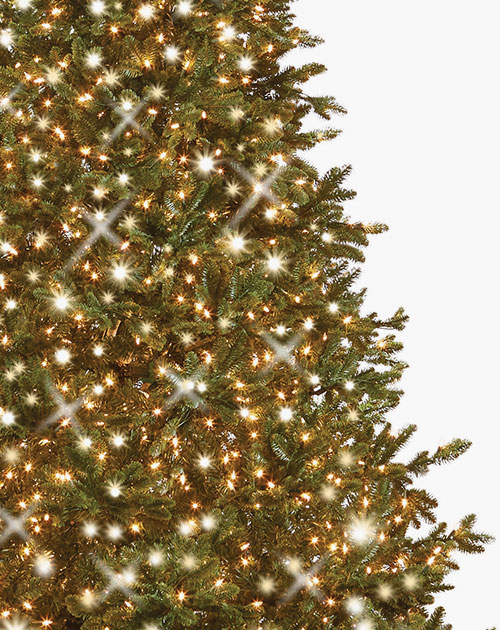 Incandescent
Traditional lights that generate clear, cheerful white or multicolor. If one bulb burns out, superior wiring technology contains the outage to only the strand to which it is attached – the rest stay lit, allowing you to replace a bulb easily with confidence. Some prefer this type of light because it is sometimes perceived as more "twinkly".
Available in:
Shop Incandescent Trees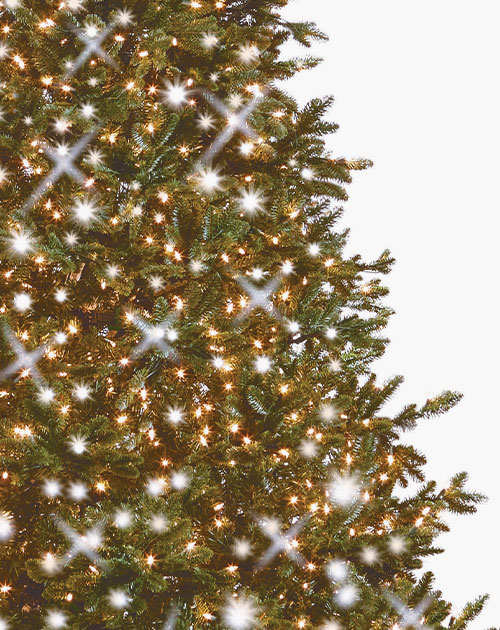 LED
Light-emitting diode technology provides the same clear white light as a traditional incandescent and the same sparkling array of multicolor light, but are built with circuitry that isolates an outage to a single light on a strand. LED replacement is as easy as incandescent bulb replacement, but rarely is required.
Available in:
Shop LED Trees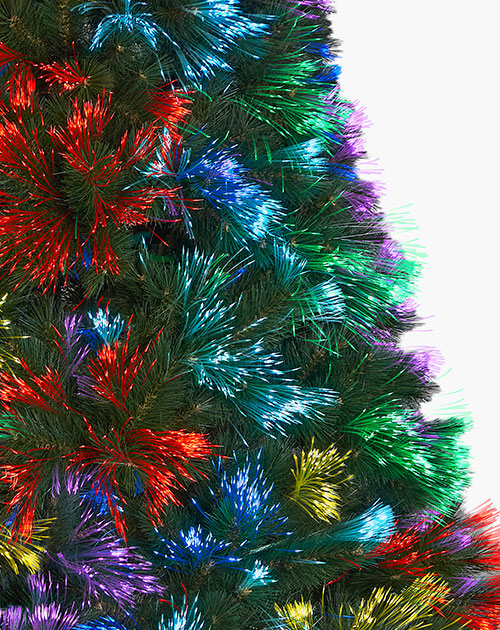 Fiber Optic
Technically a bulb-less light, flexible synthetic fibers convey cheerful white or multicolor light in a multitude of color variations and effects.
Available in:
Shop Fiber Optic Trees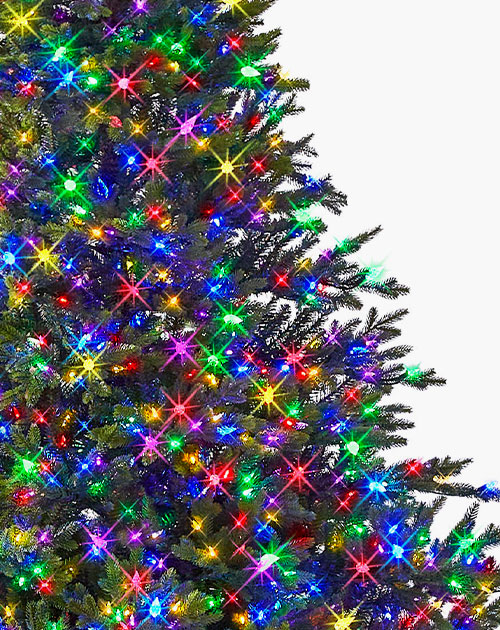 Light Show
Our Light Show trees utilize LED technology to create mesmerizing light shows of color that fade in and out, sparkle, or flash.
Available in:
Shop Light Show Trees
Tree Light Colors
The colors of a Christmas tree set the proper holiday mood for a room, whether the staid solid warm white of a living room bay window overlooking a snowy Yuletide evening or the sparkling multicolor of a family room full of presents and excited children.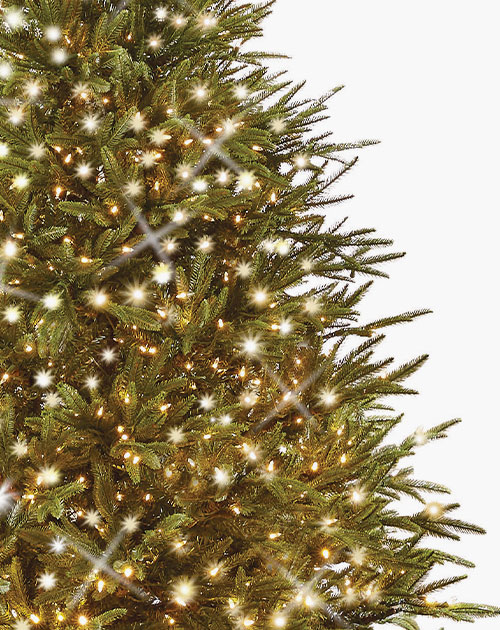 White
The traditional warm white of Christmas.
Shop White Light Trees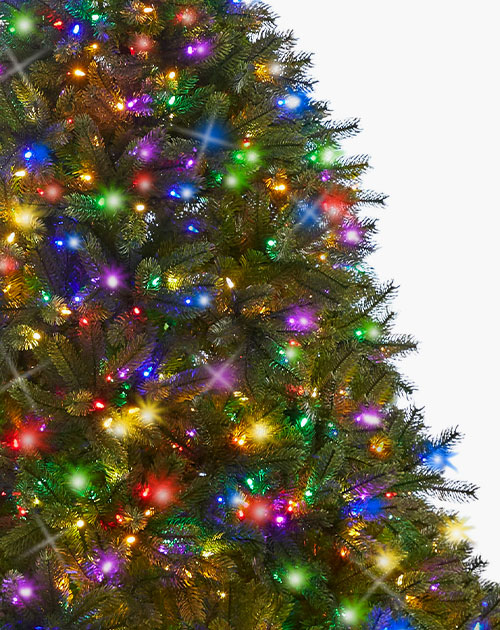 Multicolored
A scintillating array of color that imparts merriment to Christmas.
Shop Multicolored Trees
Tree Assembly
Our trees' lights are integrated into each trunk section of a tree, technology only found on the highest quality trees. Once all three sections of a tree are connected, a circuit is completed, eliminating the need to reach into a tree to connect different strands of lights. All that is left is plugging the tree into an AC outlet.
Step 1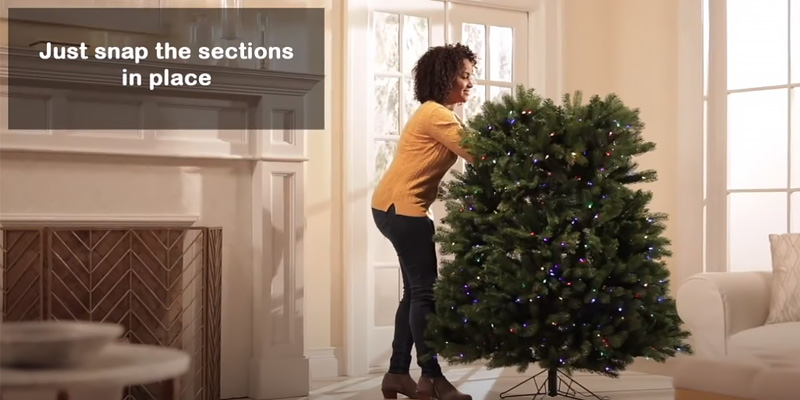 Step 2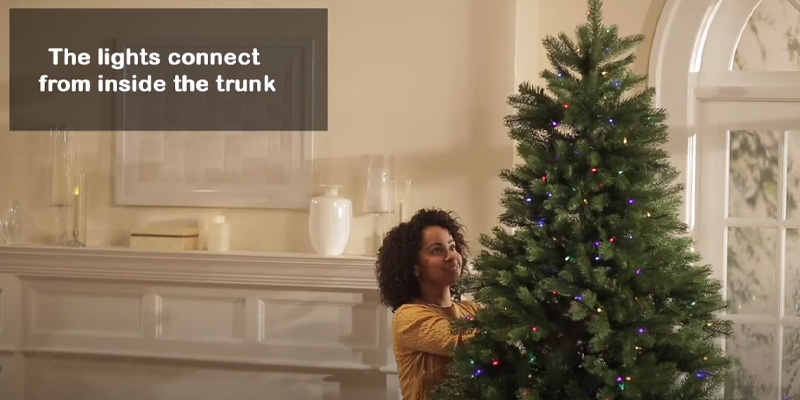 Step 3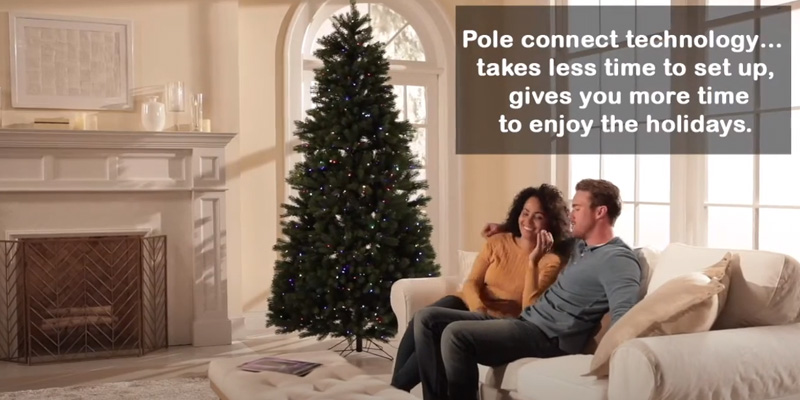 Shaping & Decorating
Every branch tip used in our trees are made from 20-gauge memory wire, which enables easy shaping using light gloves.
Step 1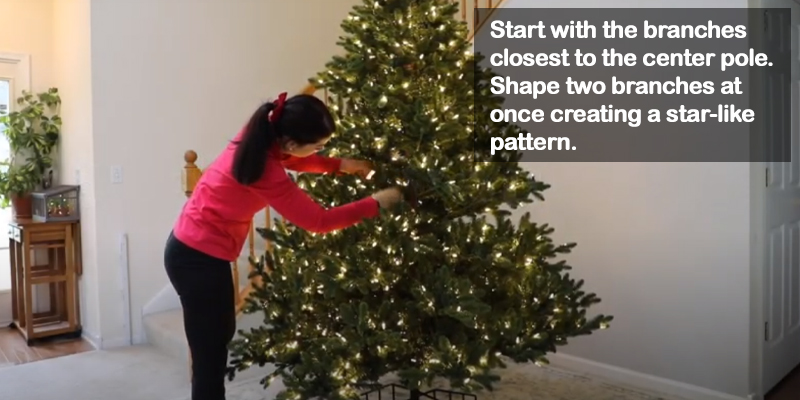 Step 2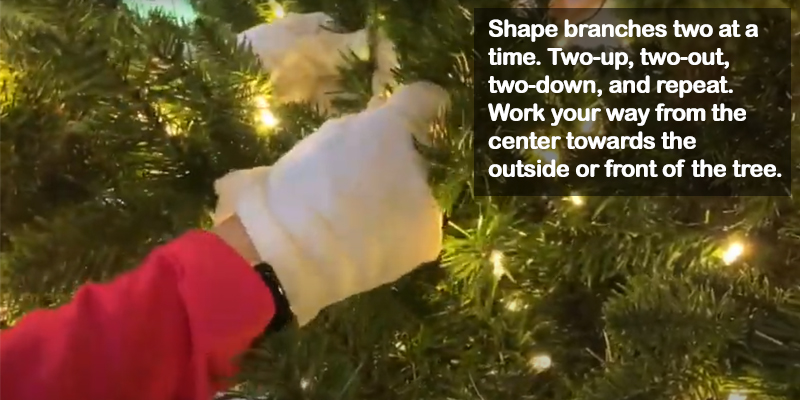 Step 3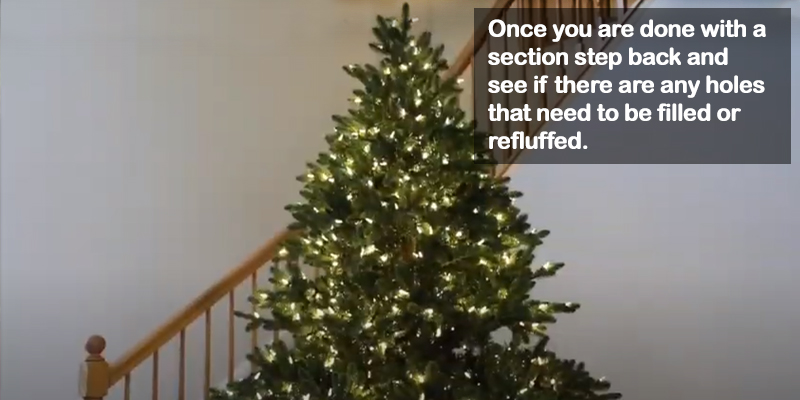 Storing
Putting away one of our trees is as simple as assembly.
Step 1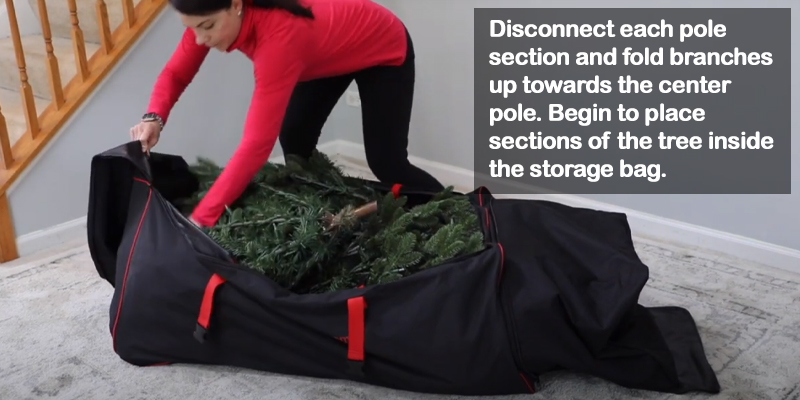 Step 2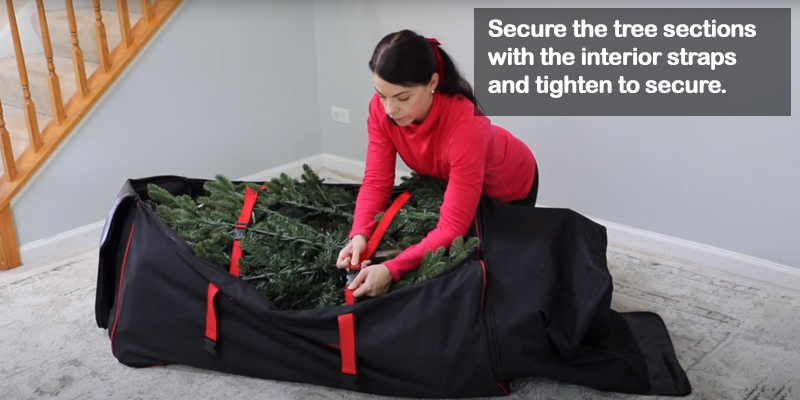 Step 3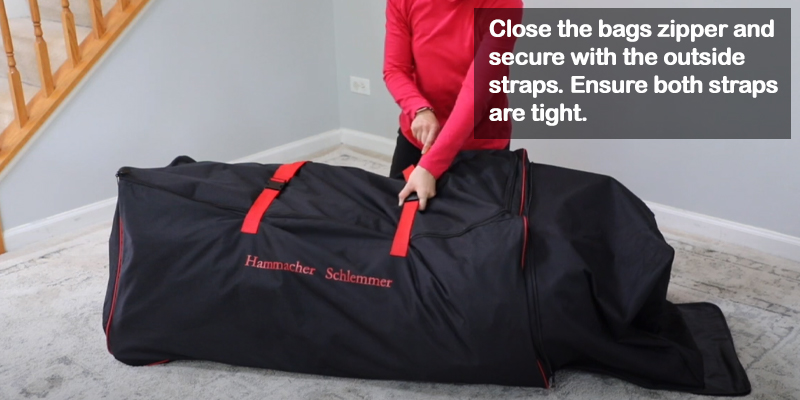 The Hammacher Schlemmer Lifetime Guarantee
Our merchandise is guaranteed for life.
Items that we sell are guaranteed for their normal life under standard non-commercial use. Should any product fail to meet your expectations, we will replace it or refund the cost of the item less shipping and service fees. Returns older than one year will be credited in the form of a gift certificate.
We know you have a choice.
Thank you for choosing Hammacher Schlemmer.