Return to Blog
August 13, 2021
Hitting The Road – Travel Essentials For 2021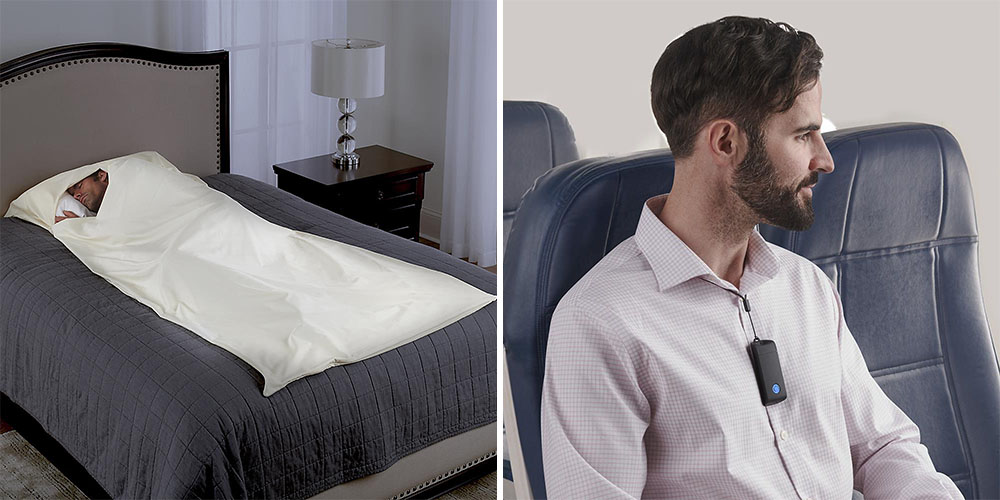 Let's face it… travel today isn't the same as it used to be, but that doesn't mean you can't find convenient items that make the experience as pleasurable as it was two summers ago. Choosing the right gear is the most important part of trip planning and we at Hammacher Schlemmer offer plenty of solutions that solve the travel problem.
First up is packing. You are going to want reliable, practical luggage whether it's going in an overhead compartment or in the trunk of the car. The World's Lightest Carry On is your go-to for any mode of travel. At less than 5 lbs., it weighs 66% less than other bags of its size thanks to a reinforced aluminum and fiberglass rods. And it's durable – in fact, its polyester exterior withstood six durability tests. Didn't fray. Wiped clean. That's a good trip.
Second is getting from point A to point B. If you must fly, then precaution is still the watchword of a healthy lifestyle. You may not be able to control who wears a mask nearby on the plane, but at least you can give yourself some peace of mind with The Wearable Travel Air Purifier, which emits 36 million negative ions every second that attach to airborne particles, dropping them to positively charged surfaces such as the floor of an aircraft cabin. Ours reduced 90% of pathogens within 3' cu. (personal space) after 180 minutes. Nothing to sneeze at.
Once you get to your destination, comfortable, sanitized sleeping arrangements are, for some, a necessity – pandemic or not. For this, there's The Sanitizing Sleep Cocoon, which ensconces the body in a 60%/40% bamboo rayon cotton blend treated with antimicrobial silver chloride that reacts to body heat by activating millions of silver ions to ward off bacteria, mold, and odors. You don't want to sleep on hotel sheets, anyway.
And who says you can't bring a bit of home with you while traveling? The All Day Comfort Gel Seat makes trips "sittable" with ultra-flex polymer gel that absorbs pressure points to ease back and leg discomfort during long flights or car rides. Never loses its shape and keeps air circulating, nor does it impede one's dexterity when turning around to issue a noise warning to an unruly child or investigate who is thumping the back of your airplane seat. There's no better friend than a happy end!