Return to Blog
October 28, 2021
Avoid Getting Left In The Cold – Order Your 2021 Holiday Décor Now!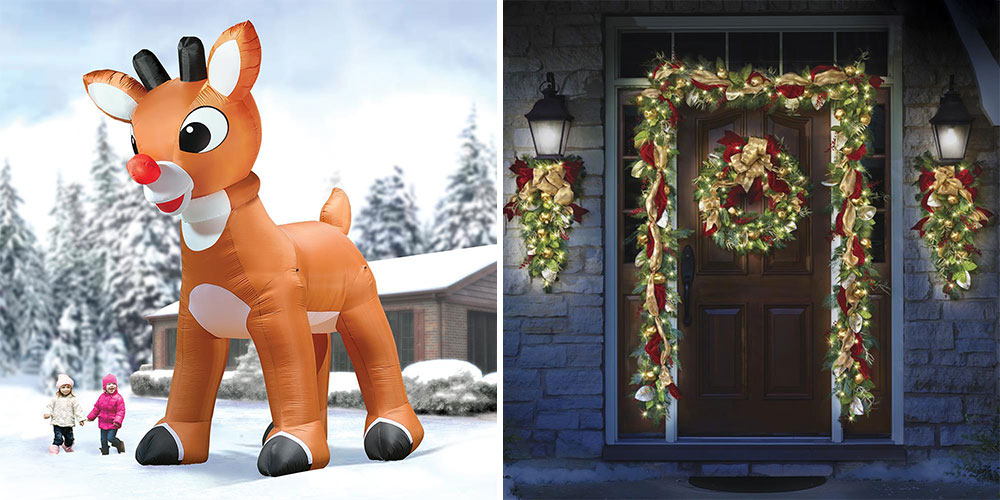 You've no doubt heard about the myriad problems facing businesses and consumers this year. It's likely you've also experienced them firsthand in the form of long waits at restaurants, empty store shelves, or online orders delayed or cancelled.
With "only" 60 shopping days until Christmas (procrastinators, consider yourselves warned) we currently have plenty of décor options to deck your halls. And walls. And yard. We anticipated supply issues and ordered more inventory than ever. But our supply—bulked up as it may be—is still going fast. Savvy shoppers know to reserve their holiday selections now to avoid disappointment later.
A Christmas tree is the centerpiece of any holiday display. From our traditional prelit trees (our Noble fir comes in 26 styles!) to fiber optic varieties that put on a stunning light show, to freshly cut live trees, we offer a Christmas tree for every taste. And our online tree selector makes it easy to find the perfect tree to add that special festive flair to your holidays.
Our cordless prelit décor lets you decorate indoors or outdoors without the unsightly hassle of a power cord. Each piece of trim has lifelike weather-resistant greenery, glistening battery-powered LEDs, and distinctive flourishes that give each set a unique look. For example, The Cordless Prelit Red And White Holiday Trim is decorated in a style reminiscent of St Moritz with glossy red and white ornaments, flocked pinecones, and red ribbons. The Cordless Prelit Regal Ribbon Holiday Trim is adorned with a two-tone gold diamond-pattern fabric ribbon complemented by a rich velvety crimson ribbon and glossy, golden-painted plum ornaments.
Turning to the outdoors, our larger-than-life inflatable decorations—available only from Hammacher Schlemmer—help you create a traffic-stopping, photo worthy festive scene. Fans of the classic 1964 stop-motion classic Rudolph The Red Nosed Reindeer can recreate their favorite scenes in supersize scale with The Inflatable 15-foot Rudolph, The 12-foot tall inflatable Clarice, The 15-foot- Inflatable Abominable Snow Monster, and The 8' Inflatable Misfit Toys. If the Peanuts gang are more your style, hop aboard The 16' Inflatable Peanuts Christmas Train, or set up our Peanuts themed lawn décor such as The Illuminated Peanuts Ice Skating Trio and The 42" Outdoor Peanuts Scene.
While we are working diligently to get orders to our customers promptly, this year has presented challenges unlike any we've seen in our 173-year history. Besides ordering early, here are a few other ways you can help ensure this unprecedented holiday season brings more delight than disappointment.
Stay flexible. If your first choice should no longer be available, consider other options that may bring you just as much joy. In the event something you have your eye on isn't currently in stock, ask yourself: are you better off ordering now and waiting a little while, or fruitlessly searching for it elsewhere?
Shop from a trusted source. For example, one with 173 years of experience. Who offers hassle-free shopping through an award-winning website, or with a helpful, knowledgeable person you can call any time. Who backs every purchase with a lifetime guarantee. Sound like anybody you know?
Please be patient. Many of the supply chain problems are beyond our control and despite our best efforts, delivery dates may change suddenly. We are in frequent contact with our suppliers and distribution partners to provide you with the most up to date information. For current inventory and delivery status please check our website.