Return to Blog
July 9, 2021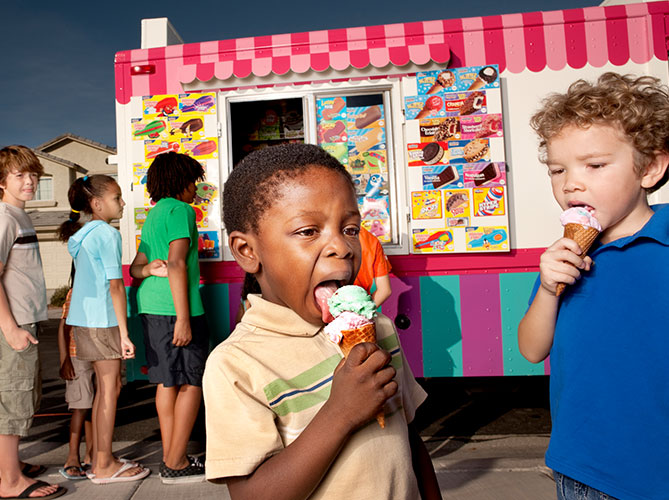 July 18th marks National Ice Cream Day and there's no better way to beat the heat than to cool off with some iced curd!
Right off, The 25 Minute Automatic Ice Cream Maker is the cool choice for celebrating the day or any time of the year. It makes two quarts of ice cream, sorbet, gelato, or frozen yogurt in just 25 minutes and you can mix in chocolate chips, nuts, or any other add-ins.
If you have a craving for soft-serve but don't want to venture out in heat that will melt you and your ice cream before you get back home, The Healthy Frozen Dessert Maker purees frozen ripe fruit into soft serve and sorbet without the fat, sugar, and artificial flavorings common to store-bought confection. It also comes with popsicle molds that can be frozen for later consumption.
If you really want to make a stir in the neighborhood, The Classic Ice Cream Cart Tricycle allows you to ride around the neighborhood dispensing treats on the same genuine ice cream cart trike made for Good Humor over 75 years ago by Worksman Cycles. And you won't need your own "Ice Cream Man Is Coming!" music, because this cart has a classic bell rung from the handlebar care of the Blevins Bell Company, the same sound that drew children by the dozens to street corners nationwide following World War II. It's painted the same as the original – blue frame with white cabinet – and is made with heavy-duty construction that has a 35" H x 23" W x 28" H cabinet for storing all manner of frozen confection, all dispensed from its flip-up door.
And finally, if you've already had enough ice cream, you can keep cool with The Countertop Snow Cone Machine, which automatically shaves ice cubes into thin slivers that store inside its 300-oz. reservoir. You only have to provide your preferred syrups – it comes with two reusable plastic cones, but we're certain you'll need at least a dozen once you set this up on a countertop!