Return to Blog
May 28, 2021
June Is National Camping Month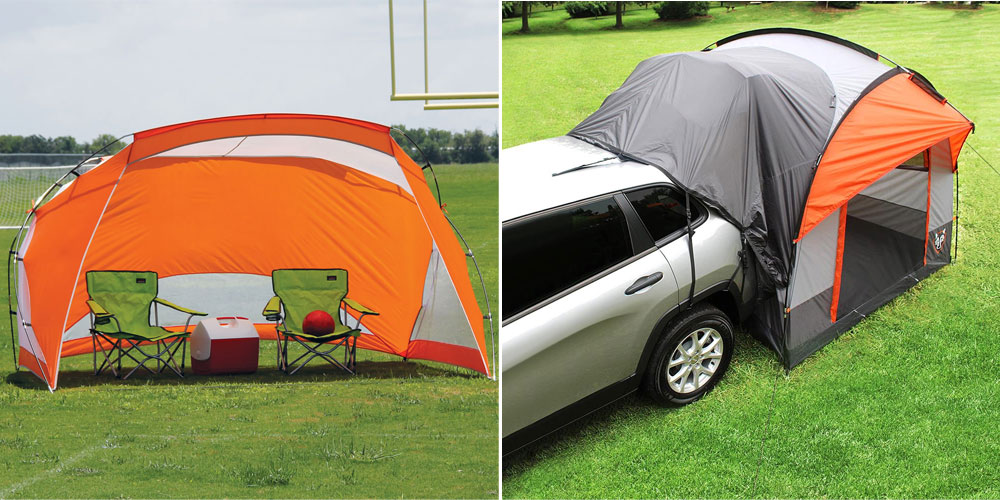 Go beyond your backyard and spend a night under the stars, enjoying the fresh air and fellowship around a campfire. If you haven't tried camping in a while – or perhaps never – June is National Camping Month and now is a great time to give it a try. To make the outing a success, you'll need the right basic gear: shelter, bedding, light, seating, and (most important) fun!
For first-timers, a good transition is roughing it via a tent while having access to the comfort of a car -- nowhere is this better expressed than The Hatchback Annex Tent, which attaches to a vehicle's hatchback (SUV, crossover, Jeep, etc.). The point is that sleepers can still get rest off the ground (and bugs) inside the car while eating or relaxing in the tent, which is made from water-resistant polyester with tape-sealed seams and plenty of pockets for smartphones and other personal items. If it's full-on car camping you prefer, but still want to sit out without being roasted alive, The Multi-Person Sun Shelter does the job without becoming a job itself thanks to a two-minute setup with only two shock-corded poles. It shields 4 to 6 persons while letting the breezes come through.
Camping is about developing a tolerance for not being perfectly comfortable. And there's no way to ensure a child will never want to go again if they don't feel safe (to say nothing about parents who never want to go again because their children disliked the experience so much!), so The Child's Portable Bed is a smart choice. It inflates in minutes and ensconces a child with raised sides that keep them from rolling into you and keeps frightening insects from ruining a perfect night's rest.
Don't depend on your smartphone's flashlight app – a good lighting source is essential for finding that last packet of Graham crackers or the lighter when it falls in the grass. The Five Mile Flashlight covers the entire campsite with 300 lumens of LED-powered light while The Wine Bottle Light replaces the clunky old propane lantern with battery-powered cozy 15- and 40-lumen light... the only thing is you'll have to finish that bottle of wine to use it!
Sitting on a rock while balancing your plate on a log might seem like a rustic challenge, but a proper seat at least gives you a fighting chance to keep that burger from the ants waiting for it on the ground. Sit you down in The Strongest Camp Chair, which supports up to 800 lbs. and provides bottle holder, side pocket, adjustable armrests, and a mesh pocket on the back.
That after-breakfast and before-dinner time can be a long stretch for kids while parents are cleaning up or preparing a meal, so having some fun diversions puts you in a good spot to keep kids going without shutting down. The Toddler's Portable Basketball Hoop. unfolds like a camp chair and lets kids toss the soft 5" basketball into the hoop while The Outdoor Gigantagram Game gives you and the kids a respite from screens with 146 4" x 4" wooden tiles made from New Zealand pine for forming word grids.
Find these camping ideas and more at hammacher.com!