Hammacher Schlemmer Introduces The LED Lip Rejuvenator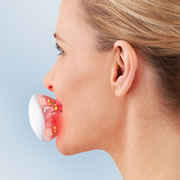 The LED Lip Rejuvenator
New York, NY, April 11, 2018 - Continuing its 170-year history of offering the Best, the Only and the Unexpected, Hammacher Schlemmer introduces The LED Lip Rejuvenator, a device that uses LED light therapy to help rejuvenate lips and diminish wrinkles around the mouth.
"This easy-to-use device helps boost circulation and amp up collagen production," explained Hammacher Schlemmer's General Manager Nick DiMarco.
The rubber mouth tray fits between one's teeth while its LEDs deliver amber (605nm), red (630nm), deep red (660nm), and infrared (880nm) light waves that penetrate the skin's surface. The light therapy helps make lips plumper and fuller-looking, while helping reduce vertical lines and wrinkles. The device is only available from Hammacher Schlemmer, charges via AC, and includes a storage pouch.
The LED Lip Rejuvenator is available from Hammacher Schlemmer for $99.95. For more information about this product, please visit https://www.hammacher.com/product/led-lip-rejuvenator, or contact Trish Hammond at (847) 581-8987 or via e-mail at pr@hammacher.com.
About Hammacher Schlemmer
Hammacher Schlemmer is America's longest running catalog, offering the Best, the Only, and the Unexpected since 1848. The company provides unique products that solve problems or represent the only one of their kind, and backs its products by a rather famous Lifetime Guarantee of Complete Satisfaction. Hammacher Schlemmer's innovative offerings are available through its catalog, online at www.hammacher.com at its landmark store on East 57th Street in New York City.