Hammacher Schlemmer Introduces The Live Conversation Speaking Translator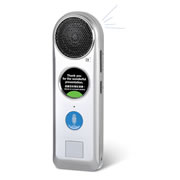 The Live Conversation Speaking Translator
New York, NY, April 17, 2018 - Continuing its 170-year history of offering the Best, the Only and the Unexpected, Hammacher Schlemmer introduces The Live Conversation Speaking Translator, a device that provides two-way verbal communication between people that don't share a common language.
Unlike text translators that require one to stop and enter each sentence word for word, this device automatically translates a spoken phrase or sentence and "speaks" the translation to the other person. It verbally translates 33 languages including French, Italian, Japanese, and Spanish, and provides text translation for 19 additional languages including Arabic, Bulgarian, and Greek. See Hammacher.com for a complete list of languages. The device charges via AC and has built-in language learning flashcards.
"It can be intimidating to visit a foreign country and not be familiar with the language," explained Hammacher Schlemmer's General Manager Nick DiMarco. "This translator helps eliminate that stress by providing a simple way to communicate across every continent."
The Live Conversation Speaking Translator is available from Hammacher Schlemmer for $349.95. For more information about this product, please visit https://www.hammacher.com/product/two-way-live-conversation-speaking-translator, or contact Trish Hammond at (847) 581-8987 or via e-mail at pr@hammacher.com.
About Hammacher Schlemmer
Hammacher Schlemmer is America's longest running catalog, offering the Best, the Only, and the Unexpected since 1848. The company provides unique products that solve problems or represent the only one of their kind, and backs its products by a rather famous Lifetime Guarantee of Complete Satisfaction. Hammacher Schlemmer's innovative offerings are available through its catalog, online at www.hammacher.com at its landmark store on East 57th Street in New York City.