Hammacher Schlemmer Introduces The Monarch Butterfly Attracting Sanctuary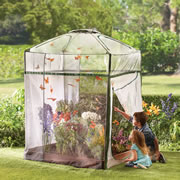 The Monarch Butterfly Attracting Sanctuary
New York, NY, June 6, 2018 - Continuing its 170-year history of offering the Best, the Only and the Unexpected, Hammacher Schlemmer introduces The Monarch Butterfly Attracting Sanctuary, a greenhouse that creates a backyard paradise for monarch butterflies.
"The population of monarch butterflies has declined significantly in recent years," explained Hammacher Schlemmer's General Manager Nick DiMarco. "This sanctuary helps provide larvae with the plants and protection necessary to sustain them into adulthood."
The unit has a raised garden bed and comes with a mat of seeds for growing nectar plants and milkweed- an essential food for monarch larvae. Nylon walls keep out predators such as robins and cardinals, yet contain small openings that allow butterflies to fly in and out. It has a transparent PVC roof that lets in sunlight while blocking UV rays. The sanctuary can be installed on a lawn or patios and is made from recycled plastic and sustainable hardwood fibers.
The Monarch Butterfly Attracting Sanctuary is available from Hammacher Schlemmer for $229.95. For more information about this product, please visit https://www.hammacher.com/product/monarch-butterfly-attracting-sanctuary, or contact Trish Hammond at (847) 581-8987 or via e-mail at pr@hammacher.com.
About Hammacher Schlemmer
Hammacher Schlemmer is America's longest running catalog, offering the Best, the Only, and the Unexpected since 1848. The company provides unique products that solve problems or represent the only one of their kind, and backs its products by a rather famous Lifetime Guarantee of Complete Satisfaction. Hammacher Schlemmer's innovative offerings are available through its catalog, online at www.hammacher.com at its landmark store on East 57th Street in New York City.