Return to Blog
June 17, 2022
Celebrate Summer With A Splash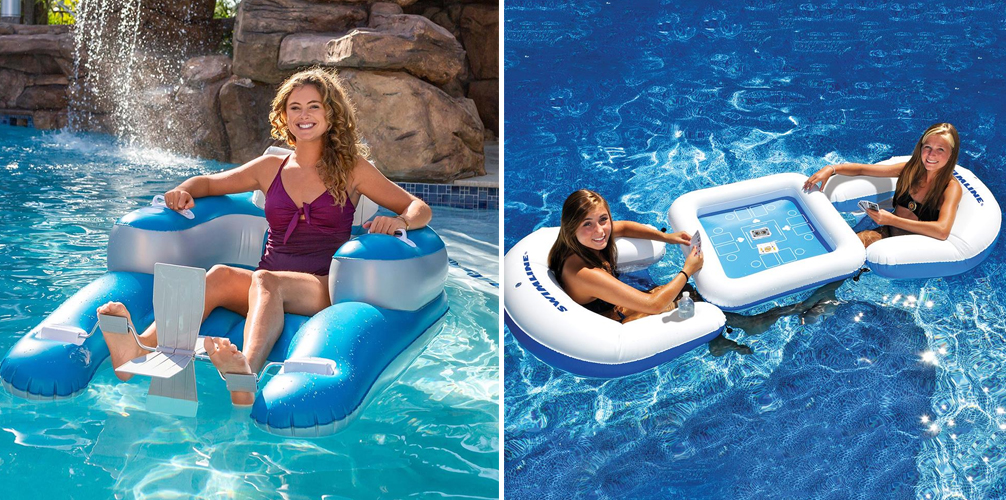 With summer heat waves on the horizon, you may be whiling away many hours at the pool. And at Hammacher Schlemmer, we can't think of many better ways to appreciate a warm and sunny afternoon. But for some, boredom may be setting in. If you're looking for some new ways to keep cool and enjoy pool-life, here are a few unique items to get you in the swim of things.
In-pool socializing takes a new form with The Pedal Powered Pool Lounger. Built from thick, durable PVC that withstands hearty pool shenanigans, it supports a rider weighing up to 250 lbs. Each armrest has a handhold for a firm grip while exerting effort while pedaling.
For card fans, The Floating Card Game combines playtime with pool-time. It comes with a 31" square floating card table, two buoyant sling chairs with cup holders, and a deck of waterproof playing cards. A great way to play buoyant blackjack, in-pool poker, and floating go fish!
For some quiet "me time" out of the water, The Better Beach Lounger serves as a chair, recliner, or a fully flat lounger. Available only from Hammacher Schlemmer, its patented design includes a massage-table style face opening with arm slots that allows you to lie prone and read in comfort while sunbathing. The lounger can be adjusted to five different positions and its attached footrest adjusts to three.
Kids love pool and water toys. But come mid- summer, even a child aqua maniac may be getting a tad bored. It's time to kick it up a notch by adding an aquatic twist to classic games. The Twister Splash Game sprinkles players with water as they place their hands and feet on colored dots while The Operation Splash Game that takes the classic game of Operation and turns it into a water-splashing challenge.
We all know how quickly summer goes. Much of the U.S. is predicted to hit the 90s in the coming weeks, so be sure to make the most of the beautiful weather coming your way!