Return to Blog
May 20, 2021
Fueling a Racing Fan's Need for Speed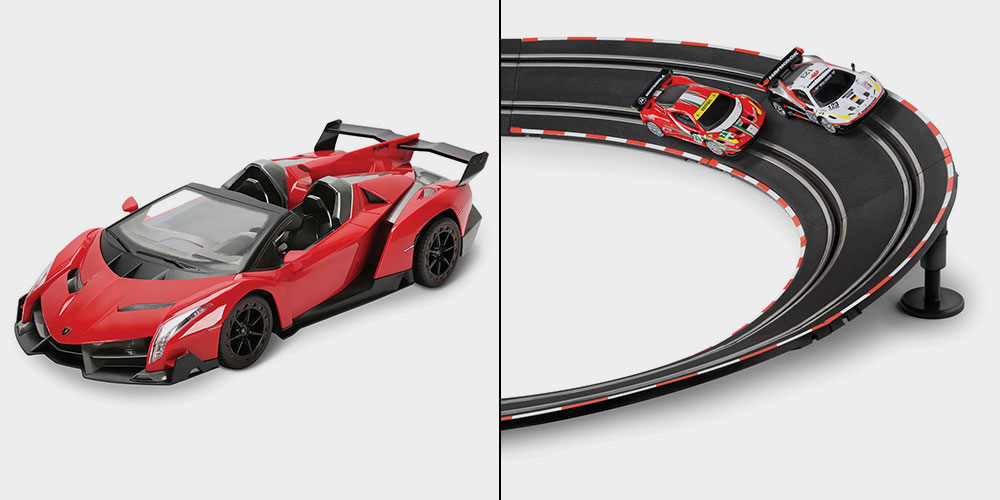 The most iconic race in motorsports revs up for the 101st time in Indianapolis this Sunday. With 200 counterclockwise laps of its 2.5 mile oval circuit, the race has often been described as "go like hell and turn left." The 33 starting racers will exhibit their unique gifts of driving skills, quick reactions, and competitiveness. Race fans will watch with mixed feelings, hoping all drivers finish safely, while being drawn to the adrenaline excitement of spin-outs and crashes.
For the true auto racing fan, this is the ultimate unique gift: an iPhone speaker dock made from the exhaust manifold of a genuine retired Formula One race car. Crafted in Modena, Italy, the cradle of Italian racecar innovation, the dock is constructed from the manifold of a retired eight-cylinder F1 engine. The speakers and tweeters deliver clear highs and mids, while the subwoofer pumps out deep, booming bass.
Now you can hold Formula GT races right in your own home. Available exclusively from Hammacher Schlemmer, this slot-car set is made by Carrera, the world's most prestigious slot-car maker since 1963. The set's 28-foot track challenges racers' skills with high-banked curves, a chicane, and a four-way crossing. Two richly detailed 1:43 Ferrari GT2 cars use a specially designed double-contact brush, which provides a secure connection to the track for consistent control during a race. This is a great unique gift for kids of all ages.
Always wanted to drive an expensive race car? This remote-controlled replica of the exclusive Lamborghini Veneno Roadster is one way to get close. Another Hammacher Schlemmer exclusive, it features a unique steering wheel remote control that simulates the experience of driving the car. This 1:12 scale model faithfully reproduces the original from its aerodynamic hood to its bucket seats and gear shift in a "cockpit" interior.
Most of us will never drive a real, full-sized race car, but we can finish our racing experience the same way as the winner: with a cold bottle of milk. The tradition started in 1937 when a local dairy company seized a marketing opportunity. A little-known bit of trivia: today, champions are presented with their choice of whole, two percent, or skim. We'd go for the chocolate.