Hammacher Schlemmer Introduces The Relaxation Aromatherapy Orb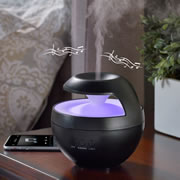 The Relaxation Aromatherapy Orb
New York, NY, October 12, 2017 - Continuing its 169-year history of offering the Best, the Only and the Unexpected, Hammacher Schlemmer introduces The Relaxation Aromatherapy Orb, an aromatherapy diffuser that plays one's favorite soothing music while emitting a fragrant mist.
Filling the water reservoir and adding a few drops of one's preferred essential oil creates a relaxing scented mist that dispenses continuously or intermittently, complemented by the diffuser's multicolored glow, which can remain one constant shade or gradually cycle through the rainbow. The tap of a button completes the home spa experience by pairing the diffuser wirelessly with a smartphone, tablet, or other compatible device, which allows it to play selections from one's music library through the integrated speakers.
"Stress relief is an important part of improving your health and longevity," explained Hammacher Schlemmer's General Manager Nick DiMarco. "This unique device helps encourage relaxation by utilizing our three most powerful senses."
The Relaxation Aromatherapy Orb is available from Hammacher Schlemmer for $89.95. For more information about this product, please visit https://www.hammacher.com/product/relaxation-aromatherapy-orb, or contact Trish Hammond at (847) 581-8987 or via e-mail at pr@hammacher.com.
About Hammacher Schlemmer
Hammacher Schlemmer is America's longest running catalog, offering the Best, the Only, and the Unexpected since 1848. The company provides unique products that solve problems or represent the only one of their kind, and backs its products by a rather famous Lifetime Guarantee of Complete Satisfaction. Hammacher Schlemmer's innovative offerings are available through its catalog, online at www.hammacher.com at its landmark store on East 57th Street in New York City.