Hammacher Schlemmer Introduces The Space Saving Shoe Carousel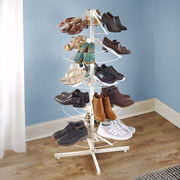 The Space Saving Shoe Carousel
New York, NY, June 26, 2018 - Continuing its 170-year history of offering the Best, the Only and the Unexpected, Hammacher Schlemmer introduces The Space Saving Shoe Carousel, a rotating shoe rack with shelves that adjust vertically to hold high heels, flats, boots, and gym shoes.
Only available from Hammacher Schlemmer, it stores one's footwear on five tiers, providing full visibility and easy access while only occupying a 22" circle of floor space. The unit has powder-coated steel construction, and its shelves rotate in both directions and tilt up/down to accommodate different shoe sizes and styles.
"Space saving solutions is something our customers always seem to be looking for," explained Hammacher Schlemmer's General Manager Nick DiMarco. "This shoe carousel helps someone keep their footwear organized and easily accessible."
The Space Saving Shoe Carousel is available from Hammacher Schlemmer for $124.95. For more information about this product, please visit https://www.hammacher.com/space-saving-shoe-carousel, or contact Trish Hammond at (847) 581-8987 or via e-mail at pr@hammacher.com.
About Hammacher Schlemmer
Hammacher Schlemmer is America's longest running catalog, offering the Best, the Only, and the Unexpected since 1848. The company provides unique products that solve problems or represent the only one of their kind, and backs its products by a rather famous Lifetime Guarantee of Complete Satisfaction. Hammacher Schlemmer's innovative offerings are available through its catalog, online at www.hammacher.com at its landmark store on East 57th Street in New York City.