Contact Us
Ordering
Delivery
Returns
Services
Return to Blog
July 29, 2022
Let The Sunshine In, But Don't Overdo It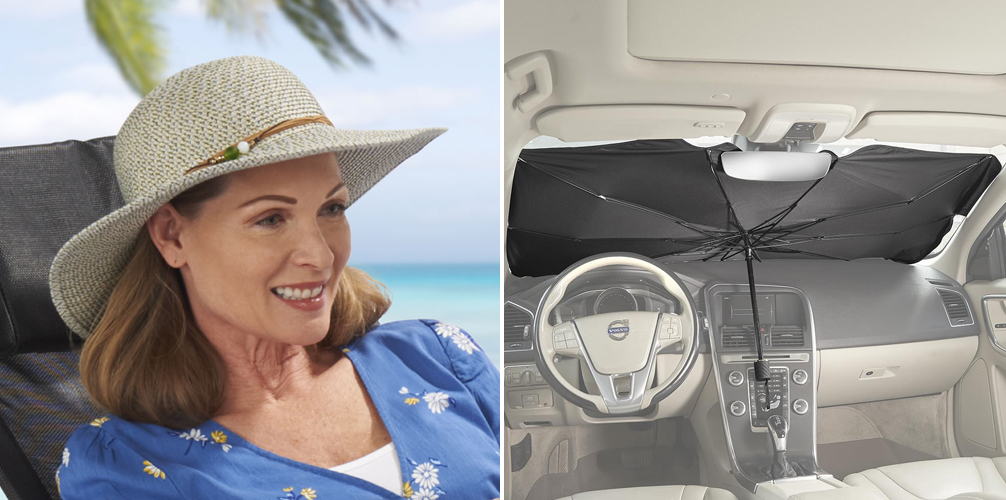 This time of year, the sun's rays are at their strongest, which is why July is designated as UV Safety Awareness Month. As we all should know, too much UV exposure can not only damage the skin, but also cause vision problems if you leave your eyes unprotected. Fear not, for when it comes to shielding you from the sun's harmful rays, Hammacher Schlemmer has you covered—literally!
The Lady's Packable Sun Hat helps keep you looking good and staying safe. This hat retains its shape after being folded/packed, allowing you to take it anywhere and not worry about damaging it. With UPF 50+ sun protection and a wide 3.5" brim, this hat is sure to keep you shaded from the sun in style.
Sometimes you need to shade a larger area from the sun's punishing heat and UV rays. The LED Starry Night Sun Shade not only protects you from the sun in the day but its built-in solar panels power starry-like illumination at night. The sunshade protects you from 90% of the sun's UV rays until a dusk sensor automatically switches its LEDs on when it becomes dark.
The broiling Summer sun can also cook a car's interior. The Better Windshield Shade easily opens and closes like an umbrella and-unlike typical sun screens-stores neatly in a car door or glove compartment. Made of pongee cloth, it has a titanium silver coating that reflects up to 99% of UV rays reducing the interior temperature of a vehicle and helping prevent fading and cracking of a ca's upholstery and dashboard.
The health of your skin and eyes is a unique gift that can't be replaced. Take steps to protect yourself and you will be enjoying the sun-safely-for years to come.
AMERICA'S LONGEST RUNNING CATALOG
Copyright 2023 Hammacher Schlemmer & Company, Inc. All Rights Reserved · AZPROD01