Return to Blog
November 15, 2021
Thanksgiving 2021 - Giving Thanks And Having Fun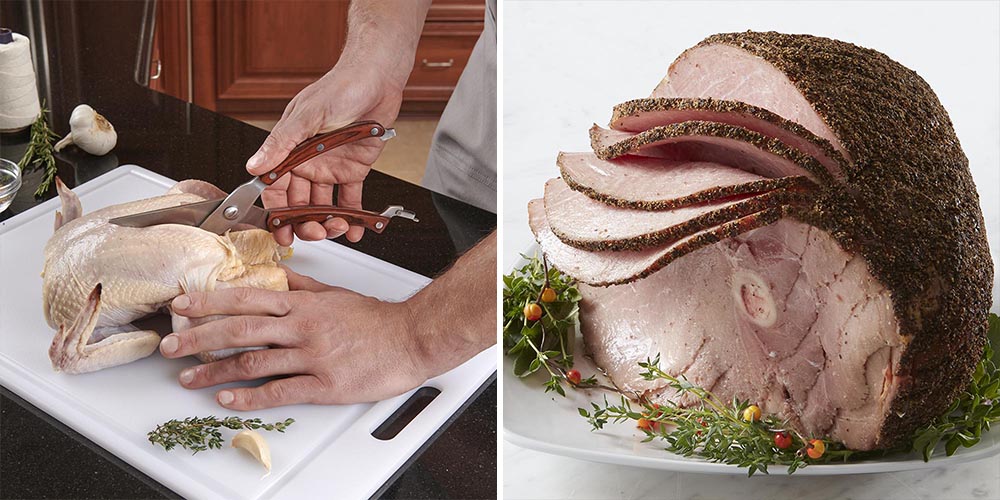 Thanksgiving is as much about giving a good time as it is having a good time, so when it comes to preparing the meal, enjoying the meal, watching the game, and getting outside after all of that eating, Hammacher Schlemmer has as many options for doing so as a turkey has feathers.
Depending upon the size of your bird, The French Poultry Shears can make quick work of clipping wings to prevent burning or trimming fat before roasting. Sought by French chefs, they have 3-3/4" full-tang stainless steel blades.
Another essential piece of kitchen equipment are knives, and The Forever Sharp French Chef's Knives will take care of all cutting, slicing, and dicing needs well beyond Thanksgiving for the next 25 years. Made in Thiers, France, their blades are made from hardened stainless steel and titanium carbide that is bonded to the steel using a 7,000° F laser.
We also realize not everyone enjoys turkey, so The Award Winning Dry Cured Peppered Ham might be an alternative to consider. Bone-in and dry-cured, it captured judges' tastebuds at the International Fancy Food Show in New York.
And while guests are waiting to be served, The Mirthful Sommelier's Wine Glasses keep spirits high with slightly bent stems that impart a touch of whimsy to the occasion.
Once the eating is done, watching the game – even if you're a cable-cutter – is made easy with The 80-Mile Multi-Directional Amplified Antenna, which pulls in stations from up to 80 miles away, blocking out unwanted wireless signals with a built-in 4G LTE filter.
The DVD Playing Projection Cinema provides an alternative for those who need to keep children entertained while the adults relax in the gloaming by transforming any indoor room into a high-definition theater that plays video games or Nulu, Netflix, or Amazon prime content via your preferred streaming stick.
When that last bit of pumpkin pie urges you to step outdoors for a friendly neighborhood pigskin challenge, you can rest up in-between downs on The Heater Outdoor Folding Chair, which provides three levels of heat, supported by a durable aluminum frame.
There you have it – seven ideas to consider for Thanksgiving and beyond!