Hammacher Schlemmer Introduces The Warmest Heated Steering Wheel Cover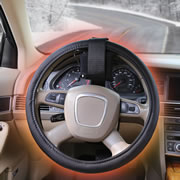 The Warmest Heated Steering Wheel Cover
New York, NY, October 12, 2017 - Continuing its 169-year history of offering the Best, the Only and the Unexpected, Hammacher Schlemmer introduces The Warmest Heated Steering Wheel Cover, the heated steering wheel cover that reached the highest temperatures in tests conducted by the Hammacher Schlemmer Institute.
Institute analysts reviewed battery-powered heated covers and found that this unit consistently reached temperatures about 10° F warmer, and it could heat to a maximum of 114° F while lesser models topped out at only 103° F. Made from PVC leather, the warmest heated steering wheel cover also had the sleekest design, with wires that were imperceptible through the silicone exterior and undetectable beneath the hands while driving.
"An ice-cold steering wheel can make wintertime driving an uncomfortable experience," explained Hammacher Schlemmer's General Manager Nick DiMarco. "This heated cover creates a cozy surface that keeps hands warm when driving, no matter the weather."
It fits snugly around standard wheels 14 1/2" to 15 1/2" in diameter and provides four levels of heat. A convenient on/off switch saves one from having to disconnect the unit when not in use. A full charge via the included AC adapter provides one hour of comfortable motoring.
The Warmest Heated Steering Wheel Cover is available from Hammacher Schlemmer for $119.95. For more information about this product, please visit https://www.hammacher.com/product/warmest-heated-steering-wheel-cover, or contact Trish Hammond at (847) 581-8987 or via e-mail at pr@hammacher.com.
About Hammacher Schlemmer
Hammacher Schlemmer is America's longest running catalog, offering the Best, the Only, and the Unexpected since 1848. The company provides unique products that solve problems or represent the only one of their kind, and backs its products by a rather famous Lifetime Guarantee of Complete Satisfaction. Hammacher Schlemmer's innovative offerings are available through its catalog, online at www.hammacher.com at its landmark store on East 57th Street in New York City.