The World's First Inflatable Automobile
Item
The World's First Inflatable Automobile
Item
This is the world's first automobile that inflates in just two minutes.
For Personalized Service on this item please call 1-800-227-3528 and our Product Specialists will gladly answer all questions and provide additional information. Please note that special conditions and guarantee limitations apply to this product.
This is the world's first automobile that inflates in just two minutes. The first road dirigible to provide commuters a breath of fresh air, the Pumperplexus AF15 has built-in inflatable panels made with 2,000-denier nylon exteriors that self-inflate at the touch of a button. Once inflated, the car starts with a blast of its horn, allowing you to honk the vehicle to optimal inflation—especially useful for deflating into a tight parking space. With an all-wheel traction system that works in concert with its active steering and responsive control and cornering system, the Pumperplexus AF15 provides a ride-on-air experience.

Click here to watch the Pumperplexus AF15 in action
Its touch-screen dashboard drops down from the ceiling to provide on-board WiFi, GPS, and navigation apps for locating the nearest air compressor station. An integrated hydration station helps you remain refreshed while driving in confident safety, thanks to its front and side airbags that deploy at the slightest provocation from passersby, close-by cars, or stray animals. Its solar-powered battery provides a 500-mile range from a full charge. 10' L x 4' W x 5' H. (1,200 lbs.)
Important Pricing Information
Important Pricing Information
This item does not have a price
That will cause you to go broke.
It costs you nothing, to be precise;
It all was just a joke.
Happy April Fools' Day!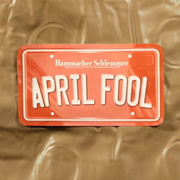 If you enjoyed our prank, please share it with your family and friends.
While this innovation does not yet exist, we are always on the lookout for the Best, the Only, the Unexpected.
The Hammacher Schlemmer

Lifetime Guarantee
Our merchandise is guaranteed for life.
Items that we sell are guaranteed for their normal life under standard non-commercial use. Should any product fail to meet your expectations, we will replace it or refund the cost of the item less shipping and service fees. Returns older than one year will be credited in the form of a gift certificate.
We know you have a choice.
Thank you for choosing Hammacher Schlemmer.
Size Guide

AMERICA'S LONGEST RUNNING CATALOG
Copyright 2023 Hammacher Schlemmer & Company, Inc. All Rights Reserved · AZPROD03