The Advanced Robotic Dog Sitter
Item
The Advanced Robotic Dog Sitter
Item
This is the advanced robotic companion that cares for a canine when its owner is away.
We regret that this item is no longer available.
This is the advanced robotic companion that cares for a canine when its owner is away. Optical and audio sensors on the robot's exterior help it learn your pet's body language, different barks, and unique behaviors and anticipate its needs. It will automatically take a dog for a leisurely 5-, 10-, or 15-minute walk at pre-set times, using its on-board GPS tracking to safely navigate a backyard or neighborhood. The robot senses when a dog is feeling restless and keeps him entertained and energized with games of disc or ball fetch, tug of war, and hide-and-seek. A built-in training module supplements your obedience training by rewarding positive behavior with treats (sold separately) or providing progressively stronger discipline (verbal warning to a water spray) to discourage negative behavior. Employing military technology used to disarm landmines, optical and olfactory sensors detect when a pet has relieved itself and direct the robot to pick up the waste, while an autonomous groomer brushes and shampoos your dog and trims its nails. When your dog touches the robot with its paw, it will play your pre-recorded audio message, so he can hear the comforting sounds of his master's voice. The robot's rechargeable battery provides up to 8 hours of power after a 12-hour charge from AC. 5" H x 13" diameter. (5 lbs.)

Happy April Fools' Day 2014!
Important Pricing Information
Important Pricing Information
This item does not have a price
That will cause you to go broke.
It costs you nothing, to be precise;
It all was just a joke.
Happy April Fools' Day!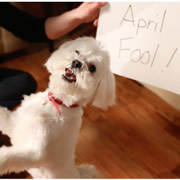 If you enjoyed our prank, please share it with your family and friends.
While this innovation does not yet exist, we are always on the lookout for the Best, the Only, the Unexpected.
The Hammacher Schlemmer

Lifetime Guarantee
Our merchandise is guaranteed for life.
Items that we sell are guaranteed for their normal life under standard non-commercial use. Should any product fail to meet your expectations, we will replace it or refund the cost of the item less shipping and service fees. Returns older than one year will be credited in the form of a gift certificate.
We know you have a choice.
Thank you for choosing Hammacher Schlemmer.
Size Guide

AMERICA'S LONGEST RUNNING CATALOG
Copyright 2023 Hammacher Schlemmer & Company, Inc. All Rights Reserved · AZPROD01