175 Years of History
Click Here for the Interactive History Timeline
The Reinvention of the Hardware Store
Thirteen years before the Civil War, an uncommon hardware store in New York City's Bowery District made a first impression that still reverberates in the history of retailing to this day.
High-quality hardware was not easy to come by in the early 19th century, and this little store quickly gained a reputation for offering some of the best mortise gauges, saw bummers, plumb bobs and fine tools sold anywhere in the city. Its reputation grew.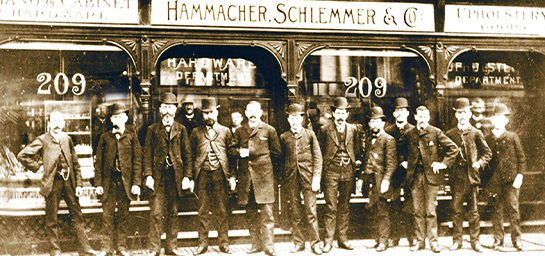 Shortly thereafter, a 12-year-old William Schlemmer began selling tools in front of his uncle's hardware store, making $2 a week ($1 of which he mailed home to his family). As years passed, he rose through the company ranks and, with the help of Alfred Hammacher, bought out his uncle's interest in 1867. The two of them then set to reinventing what could be expected of a retail goods store.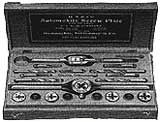 Under their tenure, salesmen canvassed the country promoting the company's exceptional selection until a common refrain among craftsman became, "If you can't find it, try Hammacher Schlemmer." In 1878, the store was listed among the initial 271 subscribers in the first New York City telephone directory. The store published its first catalog in 1881: a fully bound hardcover book. By 1912, the catalog contained a total of 1,112 pages and confirmed Hammacher Schlemmer as the most complete hardware source on the East Coast.
So complete were its offerings, that when the first "horseless carriages" arrived, Hammacher Schlemmer offered a Motorist Touring Kit for flat tires and blown gaskets, well before service stations existed. The store's stock even included every replacement part for the most popular pianos of the day.
Having outgrown its Bowery establishment, the firm moved in 1904 to 4th Avenue and 13th Street. The imposing (for its day) seven-story building featured a mahogany-paneled vestibule, oaken display cases and velvet beds for the display of wares. By1926, even this space proved insufficient, and the company moved to its present location on East 57th Street. There it occupied all twelve floors and offered household essentials, personal necessities and the first electrical appliances.
Products as Unique as Our Name

During the 1930s and 40s, the name Hammacher Schlemmer would become synonymous with innovation. It was here that the world first encountered the pop-up toaster (1930), the electric razor (1934) and the steam iron (1948). Later, Hammacher Schlemmer would offer the first electric pencil sharpener, food processor, electric can opener and automatic coffee maker. Other notable introductions include the first microwave oven (1968), telephone answering machine (1968) and cordless telephone (1975). At their introduction, these products were viewed by many as intriguing gadgets, but the company saw them as functional problem solvers.
Hammacher Schlemmer continues to serve customers' needs in ways that no one else does or can. While some of the products may appear unusual, they all share the common goal of meeting the special needs of our many customers, just as a one-of-a-kind plumb bob did over a hundred years ago. From the beginning, our standards demanded quality, functionality and exemplary service. Some things should never change.