Landmark New York Store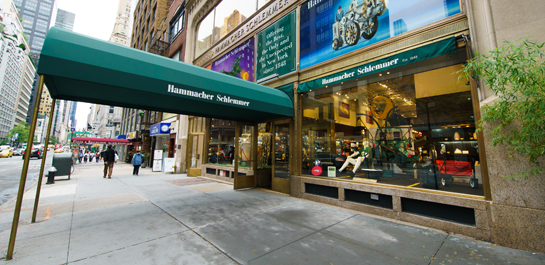 Before Hammacher Schlemmer became America's longest running catalog, we were New York City's most well-known hardware store, serving carpenters and cabinetmakers their essential bolts, bits and hand tools in velvet-lined display cases.
Today, our landmark store in Midtown Manhattan serves an eclectic array more suited for the work of living well than of constructing well. To see many of our perennial catalog favorites, as well as a special selection of other advertisements, please visit us on E 57th Street, between Lexington and Third Avenue.
147 E. 57th Street
New York, NY 10022
(Hammacher Schlemmer New York Store Google Map Location),
(Hammacher Schlemmer New York Store Google Map Location Street View)
(800) 421-9002
Holiday Hours
Christmas Eve: 12/24 10am - 5pm
Christmas Day: 12/25 closed
New Years Eve: 12/31 10am - 4pm
New Years Day: 1/1 closed

Visit Our Landmark New York Store

147th East 57th Street (Between Lexington and Third Ave)
Mon - Sat 10am - 6pm, Closed Sunday

Safe / Convenient Ways to Shop

Toll Free: 1-800-421–9002
In Person: By appointment or Walk -in (appoinments will take priority)
Curbside Delivery (Convenient contactless service)

No eating or drinking allowed.
Face masks are encouraged and appreciated.
Celebrating 173 Years in New York
In November of 2015, Hammacher Schlemmer celebrated its 166th anniversary by unveiling a completely new interior at its landmark Manhattan store. This reimagined space now displays our signature collection of the Best, the Only and the Unexpected in open, brightly-lit showcases.
Joining in the celebration were the cast of the Today Show as they took a drive in the The Authentic 1966 Batmobile