Hammacher Schlemmer Introduces The 8' Creepy Crawler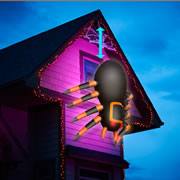 The 8' Creepy Crawler
New York, NY, September 14, 2017 - Continuing its 169-year history of offering the Best, the Only and the Unexpected, Hammacher Schlemmer introduces The 8' Creepy Crawler Chair, an inflatable arachnid that creeps up and down a home's exterior.
The animated tarantula suspends from an included 3' long cord—emblematic of a spider's sticky silk fibre—that enables it to descend and ascend in either direction over 21/2'. A built-in 14.4-watt air blower provides constant inflation that keeps the predatory arthropod's eight orange and black legs spread to either side, demanding visitors' attention.
"At Hammacher Schlemmer, we embrace both the fun and frightful side of Halloween," explained Hammacher Schlemmer's General Manager Nick DiMarco. "This animated inflatable keeps trick-or-treaters on their toes and ensures that a decorating enthusiast remains the envy of the neighborhood."
Integrated LEDs in the eyes, abdomen, and thorax produce an ominous glow that strikes fear into arachnophobes and backyard bugs alike. Made from light, yet durable polyester and PVC, it folds to 10" L x 10" W x 10" D for convenient storage.
The 8' Creepy Crawler is available from Hammacher Schlemmer for $149.95. For more information about this product, please visit https://www.hammacher.com/product/8-creepy-crawler, or contact Trish Hammond at (847) 581-8987 or via e-mail at pr@hammacher.com.
About Hammacher Schlemmer
Hammacher Schlemmer is America's longest running catalog, offering the Best, the Only, and the Unexpected since 1848. The company provides unique products that solve problems or represent the only one of their kind, and backs its products by a rather famous Lifetime Guarantee of Complete Satisfaction. Hammacher Schlemmer's innovative offerings are available through its catalog, online at www.hammacher.com at its landmark store on East 57th Street in New York City.