Hammacher Schlemmer Introduces The Antioxidant Generating Water Bottle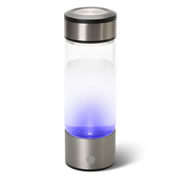 The Antioxidant Generating Water Bottle
New York, NY, March 6, 2018 - Continuing its 170-year history of offering the Best, the Only and the Unexpected, Hammacher Schlemmer introduces The Antioxidant Generating Water Bottle, a bottle that creates healthy, hydrogen-rich water on the go.
In about four minutes, the bottle infuses plain tap water with flavorless hydrogen gas, a known antioxidant that helps fight inflammation and free radicals. Repeated tests performed by the Hammacher Schlemmer Institute found the hydrogen levels generated by the bottle remained high for more than two hours after the water was treated.
"Hydrogenated water has been linked to increased energy, younger-looking skin, and faster recovery from stress and exercise," explained Hammacher Schlemmer's General Manager Nick DiMarco. "We are consistently exploring new avenues and innovations to improve sleep quality."
The dishwasher-safe 13-oz. bottle is made from thick glass protected by durable ABS plastic, with a leak-free lid. Rechargeable battery provides up to three hours of operation from a 10-hour charge via the included USB cable.
The Antioxidant Generating Water Bottle is available from Hammacher Schlemmer for $99.95. For more information about this product, please visit https://www.hammacher.com/product/antioxidant-generating-water-bottle, or contact Trish Hammond at (847) 581-8987 or via e-mail at pr@hammacher.com.
About Hammacher Schlemmer
Hammacher Schlemmer is America's longest running catalog, offering the Best, the Only, and the Unexpected since 1848. The company provides unique products that solve problems or represent the only one of their kind, and backs its products by a rather famous Lifetime Guarantee of Complete Satisfaction. Hammacher Schlemmer's innovative offerings are available through its catalog, online at www.hammacher.com at its landmark store on East 57th Street in New York City.