Hammacher Schlemmer Introduces The Cordless Heated Patio Chair Cover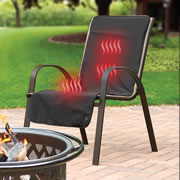 The Cordless Heated Patio Chair
New York, NY, September 26, 2017 - Continuing its 169-year history of offering the Best, the Only and the Unexpected, Hammacher Schlemmer introduces The Cordless Heated Patio Chair Cover, the only indoor/outdoor chair cover that keeps one warm on brisk al fresco evenings via a cordless integrated heating system.
Developed by Hammacher Schlemmer, it uses four imperceptible 10½" L x 4½" W heating panels—two on the seat and two on the back—and single button operation to generate three levels of warmth from 92° to 115° F.
"One of the best things about this time of year is spending time outdoors without being too hot or too cold," explained Hammacher Schlemmer's General Manager Nick DiMarco. "This chair cover affords one the ability to enjoy a cool autumn evening while remaining comfortable."
Ideal for placement on chilly patio furniture, it's constructed with water-resistant nylon, provides a soft 1/4"–thick cushion, and has an elastic band that secures around the back of a chair.
The Cordless Heated Patio Chair Cover is available from Hammacher Schlemmer for $169.95. For more information about this product, please visit https://www.hammacher.com/product/cordless-heated-patio-chair-cover, or contact Trish Hammond at (847) 581-8987 or via e-mail at pr@hammacher.com.
About Hammacher Schlemmer
Hammacher Schlemmer is America's longest running catalog, offering the Best, the Only, and the Unexpected since 1848. The company provides unique products that solve problems or represent the only one of their kind, and backs its products by a rather famous Lifetime Guarantee of Complete Satisfaction. Hammacher Schlemmer's innovative offerings are available through its catalog, online at www.hammacher.com at its landmark store on East 57th Street in New York City.