Hammacher Schlemmer Introduces The Create Your Own Droid™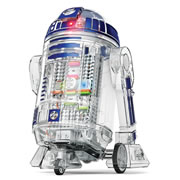 The Create Your Own Droid™
New York, NY, November 16, 2017 - Continuing its 169-year history of offering the Best, the Only and the Unexpected, Hammacher Schlemmer introduces The Create Your Own Droid™, a robotics kit that uses STEAM (Science, Technology, Engineering, Art, and Mathematics) curriculum to help a youngling create a custom R2 unit.
"Stress relief is an important part of improving your health and longevity," explained Hammacher Schlemmer's General Manager Nick DiMarco. "This kit combines the fun of Star Wars while simultaneously sparking creativity and captivating young minds."
The set comes with over 30 components including 20 frame pieces, wheels, control hub, proximity sensor, motor, and more that bring one's droid creation to life. A free iOS/Android app enables one to control the droid's direction, program its movements, and engage in 16 interactive missions. With 20 authentic droid sounds from Star Wars films and three sticker sheets for custom design. Includes 9-volt battery. Ages 8 and up.
The Create Your Own Droid™ is available from Hammacher Schlemmer for $99.95. For more information about this product, please visit https://www.hammacher.com/product/create-your-own-droid, or contact Trish Hammond at (847) 581-8987 or via e-mail at pr@hammacher.com.
About Hammacher Schlemmer
Hammacher Schlemmer is America's longest running catalog, offering the Best, the Only, and the Unexpected since 1848. The company provides unique products that solve problems or represent the only one of their kind, and backs its products by a rather famous Lifetime Guarantee of Complete Satisfaction. Hammacher Schlemmer's innovative offerings are available through its catalog, online at www.hammacher.com at its landmark store on East 57th Street in New York City.