Return to Blog
March 23, 2022
Making the Most of Daylight Savings Time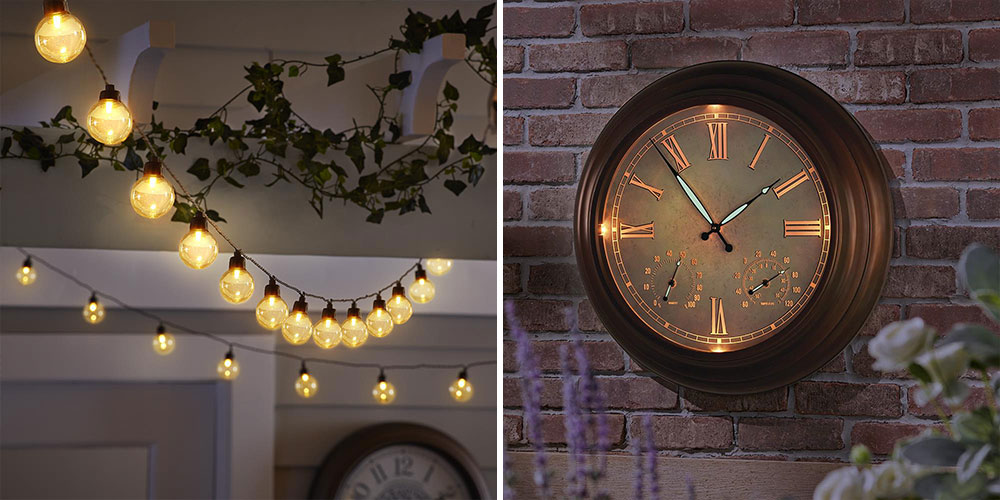 Some folks love it, others curse it…but there's no denying that the move to Daylight Savings Time capitalizes on one of Nature's unique gifts: the lengthening of the days that comes with spring. In the U.S., DST has been around since 1918 when it was established as a fuel-conservation measure during WWI. However, the Senate recently passed a bill that would make DST permanent, meaning you will no longer need to reset all the clocks in your home twice a year. Sen. Sheldon Whitehouse of Rhode Island, the lead Democratic sponsor, said that "this would give us a chance for Americans all across the country to be rid of fall back…and to add a little sunlight into most people's lives."
Whether or not this bill is ultimately passed into law, you can count on Hammacher Schlemmer to continue to offer high-quality, innovative items that take full advantage of that extra hour of sunlight. Here are a few popular examples:
Available exclusively from Hammacher Schlemmer, The 24" Outdoor Lighted Atomic Clock makes it easy to know the exact time day or night. The oversized clock synchs to the atomic radio clock transmitter in Fort Collins, Colorado for unequaled precision that never requires adjustment (and automatically updates for DST). Its 2 3/4"-high Roman numerals can be easily read from up to 30' away in the daytime, while its subtly glowing hour and minute hands and four LEDs reveal the time in low light conditions.
As we age, many of us find that our eyesight begins to fade, and we become more forgetful. The Easy Read Full Disclosure Clock solves for both these issues by displaying the day, date, and time in easy-to-read numbers and words that can be clearly read from across a room. It presents the day of the week and part of the day in bold uppercase letters and the calendar date with month and year spelled out across the bottom for more clarity and fewer missed appointments. It's an ideal way for retirees or anyone with wide a open schedule to keep track of the date and time.
Don't let the extra sunlight go to waste. The Solar LED Landscape Lights recharge in the day to illuminate areas that cannot be easily reached via an electric cord at night. The six lights have stainless-steel tops with a solar panel and together cast a total of 80 lumens onto a lawn, garden, or pathway. The lights are staked with 4 1/2"-long posts that place them level with the ground. They are water- and rust-resistant and turn on automatically at dusk. A full day in the sunlight provides up to 10 hours of nighttime illumination.
The Solar Decorative G40 String Lights create a festive atmosphere anywhere outdoors without annoying batteries or electric cords that can put you in a foul mood. Requiring only sunlight, a total of 20 LEDs inside G40 glass bulbs span a length of 12' (with 8" between each bulb), enabling them to suspend from porches, along railings, or throughout tree branches. A full day's charge provides illumination deep into the night and the lights turn on automatically at dusk.
For more unique ways to track the time or innovative ideas that harness the power of the sun, visit Hammacher.com.