Return to Blog
June 4, 2021
Father's Day 2021 - Destined For No Attic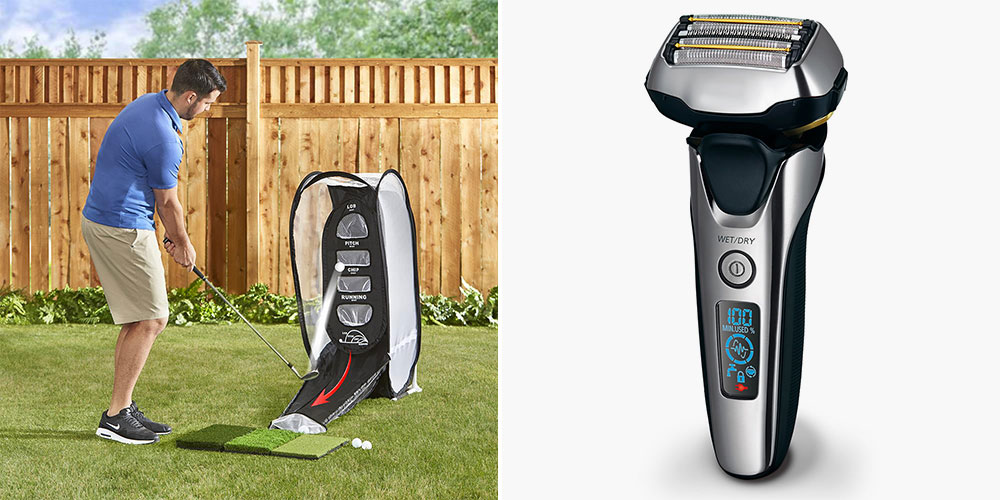 What do you do when the father you're trying to surprise with that perfect gift already has everything he wants or professes to want nothing at all?
You come to us at Hammacher Schlemmer - that's what others have done for former fathers for 173 years!
Our Father's Day gift selections are not mere baubles that dad admires in the moment and then silently puts away in the attic. Rather, the products we sell have all been carefully selected after diligent research, analysis, and testing to ensure that they first merit placement in our catalog, at our store, and on our website based upon their ability to solve a problem.
Your dad has problems that need solving. Yes, it's OK to admit it - but you can be part of the solution with our help!
The Best Gentleman's Foil Shaver earned its name because it passed rigorous testing, which revealed its foils generated subtle vibrations that lift hair follicles that enable its five blades - the most in the industry - to cut below the skin. It reaches every nook and cranny and is the quietest of them all. A clean-shaven dad is a happy dad.
The Putting Pool Table solves the problem for the dad who enjoys shooting pool as much putting - and since it's indoors, night putting is allowed! What dad wouldn't enjoy taking the family to school with his putting and pocket pool prowess on a felt surface?
And because you know he means business about his golf, The Golf Ball Returning Chipping Net allows him to get that muscle memory honed while practicing lobs, pitches, chips, or running shots. The net captures balls in four targets and even shags errant shots, returning them via an incline for continuous practice. Works indoors or outdoors.
If dad loves his music - but has been eternally reluctant to converge all his media into modern forms - we have a way to solve that problem! The Any Music Format Stereo does just that by playing records, cassettes, CDs, MP3s, SD cards, USB drives, and has an AM/FM radio. And it can even stream his favorite podcast from his smartphone via Bluetooth.
The Magnum P.I. Hawaiian Shirt is the ultimate expression of cool - even if dad never watched the show, grew a signature mustache, or flew a helicopter. It's an exact replica of the one worn by the show's famous actor, complete with the Jungle Bird print, wooden buttons, matching pocket, yoke, and side pleats. And it's made in Hawaii!
And it's always better to combine looking cool with being cool - The Reclining Cool Mesh Rocker reduces stress on the joints and its mesh fabric keeps the body cool. And it also supports up to 300 lbs. - that's because all that coolness can be too heavy to handle!
So look no further for a fine gift for a father. Come check us out - and avoid the crawlspace - at Hammacher Schlemmer!