Return to Blog
June 27, 2022
Keeping Your Grass And Garden Green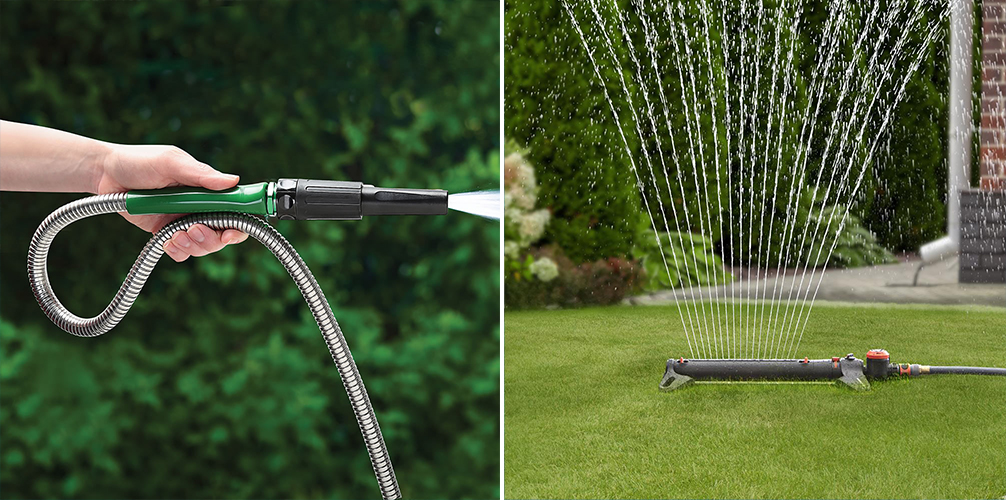 One of the best things about summer is enjoying beautiful lawns and bountiful gardens. One of the worst things is maintaining the greenery while fighting against brutal heat, unexpected droughts, and encroaching weeds.
The single best way to keep your garden green when hot and dry weather becomes a problem is utilizing superior sprinklers to keep the soil hydrated. The Hammacher Schlemmer Institute has tested leading lawn sprinklers in the marketplace and awarded this model as The Best. Its plumes covered up to 1,920' sq-228 more square feet than lesser units tested. Its spray range reaches up to 62' long and 56' wide, ensuring a full saturation of your lawn. The Best Sprinkler also has a specially designed adapter that attaches to a hose and has a built-in mechanical timer that waters a lawn for up to 2 hours.
For those that prefer to water plants a more traditional way, items such as The Indestructible Stainless Steel Hose provide a superior alternative to flimsy rubber hoses. Constructed with a 304 stainless steel alloy, the hose resists problematic punctures and common coiling kinks. It is resistant to all weather and will not burst in freezing temperatures or crack under intense heat. The heavy-duty hose is available in a variety of sizes at Hammacher.com to suit your specific needs.
In situations where patches of grass or gardens may have already died or are in desperate need of more assistance, unique gardening tools can help you relocate, replant, or restructure your entire landscaping.
Problem solvers such as The Pest Thwarting Elevated Garden raises plants beyond the reach of slugs, rabbits, and other natural nuisances and inhibits the spread of ground-based weeds without the use of harmful chemicals or pesticides. The raised bed also boosts soil temperature for seed germination and increases plants' exposure to sunlight-conditions under which plants thrive—and also enables one to tend a garden while standing or seated, preventing back strain.
When it comes to fighting aggressive weeds, The Root Cutting Serrated Shovel can be used to cut, saw, and slice through soil, roots, and overgrown plants. Each side of the shovel contains 16 double-edged serrated blades that enable easy digging, chopping, and uprooting all within one easy-to-use tool. Also ideal for plant propagating, the shovel is made from industrial grade carbon steel and has a built-in step for foot placement.
Finally, The Flower Bed Perfect Hole Digging Bit digs perfectly sized holes using a standard household drill. Its angled blades extract the soil as it digs, leaving you with a round and flat-bottomed hole for replanting your favorite plants.
Spending time among the sights, sounds, and scents of a properly landscaped yard can reduce stress and promote relaxation. Any of these unique tools make a great addition to an avid gardener's tool shed-allowing you to get the most out of your green oasis...and your summer.