Return to Blog
December 5, 2022
Looking For Last Minute Gifts? We're Here For You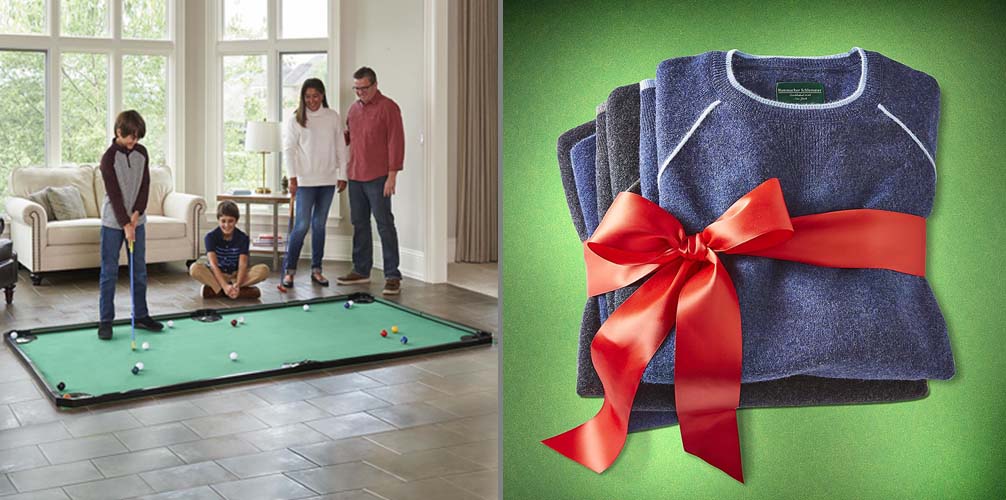 Shopping for last-minute gifts can add unwanted anxiety to what has already been a stressful year. But procrastinators need not panic. With 174 holiday seasons under our belt, Hammacher Schlemmer is here to help with great gift ideas and exceptional service. Here are just a few examples from our selection in Gift Guide, every one ready to ship. Many items, including all those mentioned here, are also Hammacher Schlemmer exclusives, making your gift that much more special.
Nothing says luxury like genuine natural cashmere. But the special care it requires can make it a hassle to wear. The Washable Cashmere Sweatshirt is knitted entirely from two-ply cashmere yarn that undergoes a proprietary, non-toxic treatment which enables it to withstand repeated machine washing without shrinking. It provides the unparalleled elegance and warmth of 100% cashmere in a relaxed fit that guys prefer, minus the chore and expense of dry cleaning.
Those in search of a gift that delivers big fun for the entire family need look no further than The World's Largest Putting Pool Table. This 9-foot-long indoor putting green combines the smooth strokes of mini-golf with the skillful strategy of billiards. Players attempt to sink the 15 billiard-style golf balls into the six "pockets" using golf clubs instead of pool cues as they compete in classic games of 8 Ball, 9 Ball, or Rotation.
Jigsaw puzzles have experienced a resurgence over the last two years. Unfortunately, for many dissectologists this means that a coffee table or dining room table is off limits while puzzles are being built. The Solid Wood Fold And Store Puzzle Table solves this age-old dilemma. This solid wood table sets up quickly to provide a sturdy, organized work surface, yet folds for compact storage between puzzling sessions. Its hinged tabletop unfolds to create a 30" x 22" center work area for puzzles up to 27" x 19", flanked by panels on each side for sorting pieces. Its non-slip felt lining holds puzzle pieces in place when the table is folded.
For those with piles of records, tapes, and CDs, The Any Music Format Stereo singlehandedly plays any audio media from the Jazz Age through the Digital Age. The top of the unit contains a three-speed turntable, while its front has a single CD-drive, cassette deck, USB port, SD card slot, and AM/FM tuner. It plays audio through a pair of three-watt speakers, which you can also pair wirelessly to your smartphone with Bluetooth. It can even convert analog music formats to digital files.
If you're still having difficulty deciding on the perfect gift (perfectly understandable given our wide selection), save valuable time with a Hammacher Schlemmer Gift Certificate. Available in denominations from $25-$200, they can be redeemed through our catalog, online, or at our landmark New York store. Your recipient will appreciate the gift of choice...along with the peace of mind that comes with our Lifetime Guarantee.