Hammacher Schlemmer Introduces The NASA Strength Sun Hat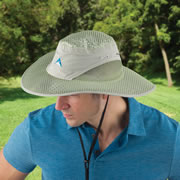 The NASA Strength Sun Hat
New York, NY, July 25, 2017 - Continuing its 169-year history of offering the Best, the Only and the Unexpected, Hammacher Schlemmer introduces The NASA Strength Sun Hat., a hat that incorporates NASA-developed radiant barrier technology to block damaging UV rays and repel the sun's heat.
Harnessing the same technology used in space suits to shield astronauts from temperature extremes and dangerous radiation, the radiant barrier reflects up to 80% of the sun's heat from the body, unlike the woven fabrics used in typical sun hats that absorb and transfer heat to the skin.
"Everyone knows the risks associated with excessive sun exposure," explained Hammacher Schlemmer's General Manager Nick DiMarco. "We are always looking to provide products that help protect our customers against harmful rays, yet still allow them to enjoy the outdoors."
The barrier imparts a UPF 50+ rating to the hat, providing 99.89% protection from harmful UV rays and ensuring optimal sun safety. Covered by a wide mesh that protects it from damage, this barrier works in concert with the hat's durable, breathable, and lightweight nylon construction, a wide, asymmetrical brim, two ventilation patches on each side of the crown, and a moisture-wicking band to keep one's head shaded and cool. A drawstring provides an adjustable fit.
The NASA Strength Sun Hat is available from Hammacher Schlemmer for $39.95. For more information about this product, please visit https://www.hammacher.com/product/nasa-strength-sun-hat, or contact Trish Hammond at (847) 581-8987 or via e-mail at pr@hammacher.com.
About Hammacher Schlemmer
Hammacher Schlemmer is America's longest running catalog, offering the Best, the Only, and the Unexpected since 1848. The company provides unique products that solve problems or represent the only one of their kind, and backs its products by a rather famous Lifetime Guarantee of Complete Satisfaction. Hammacher Schlemmer's innovative offerings are available through its catalog, online at www.hammacher.com at its landmark store on East 57th Street in New York City.