Return to Blog
November 18, 2022
What Will Kids See Under The Christmas tree?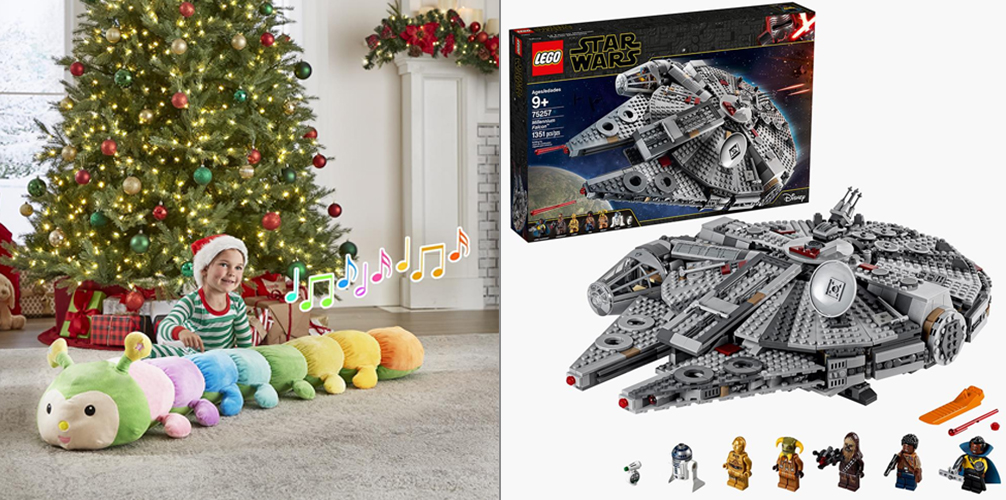 Santa may be safe from supply chain problems, but what about mom and dad?
Hammacher Schlemmer has taken multiple steps to ensure Christmas gifts of all kinds reach our customers with minimal wait and delivery times. But if there are doubts or concerns over getting the perfect gift for your little one or grand-little one in time, the best plan is to order as soon as possible.
If your first choice should no longer be available, there are other options that may bring your family just as much joy. Unsure of what to get for a child on the "Nice" list? The quick toy guide below can help provide some ideas.
LEGO Shop
This year, Hammacher Schlemmer introduces its LEGO shop. With a myriad of options for all ages and genders, sets of the classic building block are available for purchase at various price points.
Pre-schoolers will enjoy simple DUPLO sets such as The LEGO DUPLO Town Amusement Park and The LEGO DUPLO Classic Giant Brick Gift Set, while grade-school kids can engage in imaginative play with sets like The LEGO Architecture Singapore Skyline, The LEGO Friends Main Street Building, or The LEGO Star Wars Millennium Falcon.
New Toys
New products such as The Light Up Tabletop Alley Ball will challenge players of all ages with its addictive arcade gameplay. Have a child that loves fantasy and unicorns? The Tender Touch Magical Unicorn is sure to delight them. When gently touched, the mythical beast's wings light up with color.
Best Sellers
This classic collection of toys are some of the most popular products Hammacher Schlemmer has to offer. In some instances, these items have been in our catalog for years.
The Air Combat Battling Helicopters are the remote-controlled helicopters that wage an in-air war for ultimate aviation supremacy. Each helicopter is equipped with an infrared laser cannon that emits an invisible beam at its opponent when triggered via remote.
The Musical Plush Caterpillaris the 5'-long plush caterpillar that makes piano sounds and plays music. Touching each of its eight segments generates a different note, providing a full octave for minor composers to create custom ballads.
The Kiss Blowing Animated Penguin sings and blows kisses to children. When one foot is squeezed, he sings a 70-second long kissing song set to "Frere Jacques" as he "dances". When his other foot is pressed, he uses his wings to blow kisses as he plays an interactive kissing game.
The Live Action Infrared Skeet Shoot uses a harmless infrared blaster for indoor or outdoor target practice. The three plastic targets with upgraded infrared sensors are launched by precisely calibrated springs up to 7' by the trap and "break" into two pieces when hit by the blaster's infrared "buckshot".
Some kids' letters to Santa include three or four pages of wish-list items. And yet, there's a lot of pressure on a loving aunt, uncle, or grandparent to find unique gifts for the little ones that will be both memorable to the parents and loved by the children themselves. So, when is the best time to order your holiday gifts? Now.