Hammacher Schlemmer Introduces The Remote Controlled Glowing Ghost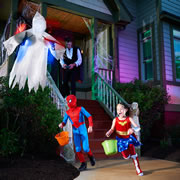 The Remote Controlled Glowing Ghost
New York, NY, September 26, 2017 - Continuing its 169-year history of offering the Best, the Only and the Unexpected, Hammacher Schlemmer introduces The Remote Controlled Glowing Ghost, a remote controlled ghost that provides ethereal floating and preternatural glowing.
Four 8"-diam. propellers mount to booms that emanate from the spirit's neck, providing four-axis flight in any direction. Operators can haunt indoors and terrorize outdoors from up 30' away using the 2.4 GHz radio remote, providing forward/backward, left/right turns, and lateral hovering.
"We believe in embracing the frightful and fun aspects of Halloween," explained Hammacher Schlemmer's General Manager Nick DiMarco. "This unique drone is only available from Hammacher Schlemmer and is sure to encourage amusing haunts and seasonal scares."
An LED built into the ghost's translucent skull casts its visage and ragged, gossamer shroud in a ghoulish hue, marking the ground over which it hovers as a sign of its passage. Its rechargeable battery provides up to 10 minutes of frightful flight from a full charge.
The Remote Controlled Glowing Ghost bis available from Hammacher Schlemmer for $99.95. For more information about this product, please visit https://www.hammacher.com/product/remote-controlled-glowing-ghost, or contact Trish Hammond at (847) 581-8987 or via e-mail at pr@hammacher.com.
About Hammacher Schlemmer
Hammacher Schlemmer is America's longest running catalog, offering the Best, the Only, and the Unexpected since 1848. The company provides unique products that solve problems or represent the only one of their kind, and backs its products by a rather famous Lifetime Guarantee of Complete Satisfaction. Hammacher Schlemmer's innovative offerings are available through its catalog, online at www.hammacher.com at its landmark store on East 57th Street in New York City.