Return to Blog
June 18, 2021
Greeting The Summer Solstice With A Splash Of Cooling Calm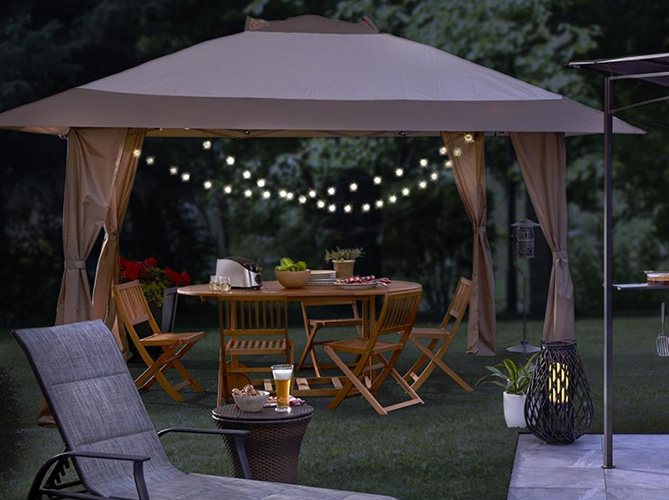 June 20th is the first day of summer -- or the Summer Solstice for most of us reading this article -- and we at Hammacher Schlemmer want to help you cool off, calm down, and party on!
With the 20th being the longest day of the year, in some parts of the country that also means the 20th can also sometimes be one of the hottest days of the year, so we've thought of a few ways to get ahead of the heat before it knocks you off your feet!
When you need to cool off an outdoor space, The Cordless 24 Hour Outdoor Misting Fan does the job with three misting nozzles supplied by a garden hose and a 1,700-rpm fan that gently blows the mist to cool up to 1,500 cubic feet -- and its cordless operation provides up to 24 hours of cooling, making it perfect for patios, decks, and covered porches where no outlet is available.
The fan works perfectly with The Instant 12' Square Steel Frame Gazebo, which provides shelter via 300-denier polyester for al fresco luncheons, a backyard base for kids, or a resting spot for older kids who want a "cool" place to hang out away from the little ones. In fact, it's so easy to set up -- the frame expands as it is erected -- that those teenagers can do it themselves, though you may prefer to secure it to the ground yourself with the included stakes.
If inside is where you want to be, The 5,950 BTU /12,000 BTU ASHRAE Portable Air Conditioner keeps a room up to 350' sq. cool with 5,950 BTUs DOE/12,000 BTU ASHRAE (we believe in full transparency for A/C units!) It's portable, has a 24-hour timer, and acts as a dehumidifier, making it a great companion when cleaning or organizing stuffy attics or hot garages. Also serves perfectly for lake house or cabin use (also sought by those who rent their homes for travelers or run bed and breakfasts).
Once cool is conquered, it's time to get calm by watching some wildlife, and observing butterflies is a good way to get mellow. While the thought of watching insects for calming purposes may seem foolish, it's actually quite Finnish -- as in The Finnish Butterfly Oasis! The feeder hangs from a balcony or tree branch and attracts the flutter-bys visually (your choice of yellow or lilac) and a reservoir of nectar only accessible by a butterfly's long proboscis, thanks to dozens of tiny perforations built into its gourd-like shape.
While you're inside cool and calm, the kids outside can get the summer started off in splashy style with The Stone Skipping Cornhole Game, which keeps kids engaged by challenging them to skip flat plastic "stones" across a pond, lake, or pool into a floating triangular target in the same way one tosses bean bags into a cornhole table. Just make sure they throw away from the house, not towards. Always away, kids, not towards.
If you're more comfortable with the kids launching themselves versus projectiles, The Water Slide Bowling Game helps to get all the energy out of their system while keeping them well hydrated and entertained. At 18' long, the slide challenges kids to grab one of the two included inflatable rafts and slide down the "alley" while being sprayed with sprinklers along the slide until they crash and splash into a set of inflatable pins suspended at the end over a pool.
And once the kids have had enough soaking, they're going to be hungry -- that's when you ring your preferred "come and get it while it's hot!" bell and surprise them with freshly made pie care of The Outdoor 60 Second Pizza Oven. Using propane or pellets, depending on what model you select, the oven reaches 950 degrees in just 15 minutes and requires only a minute to produce a perfectly caramelized pizza, thanks to a 10mm-thick cooking stone and open flame used in professional ovens.
Finally, once the sun does set, the fun can continue into the night with The Solar Decorative G40 String Lights, which illuminate a backyard without the need for an AC outlet because they are powered by (the longest day of) sunshine. Each glass G40 bulb houses 20 LEDs that automatically turn on at dusk and they span 12' to cover patios, decks, porches, or anywhere that you want to hang them. Many who own these purchase two or more and criss-cross them over backyard areas.
A final idea to end the longest day are The Illuminated Floating Jellyfish, a foursome of buoyant bioluminescent buddies that provide nighttime ambience to a pool while they drift wherever the current takes them while their purple and orange bodies (two of each color) glow with the aid of a battery-powered LED.