Contact Us
Ordering
Delivery
Returns
Services
Return to Blog
February 4, 2022
Putting the "Super" in Sunday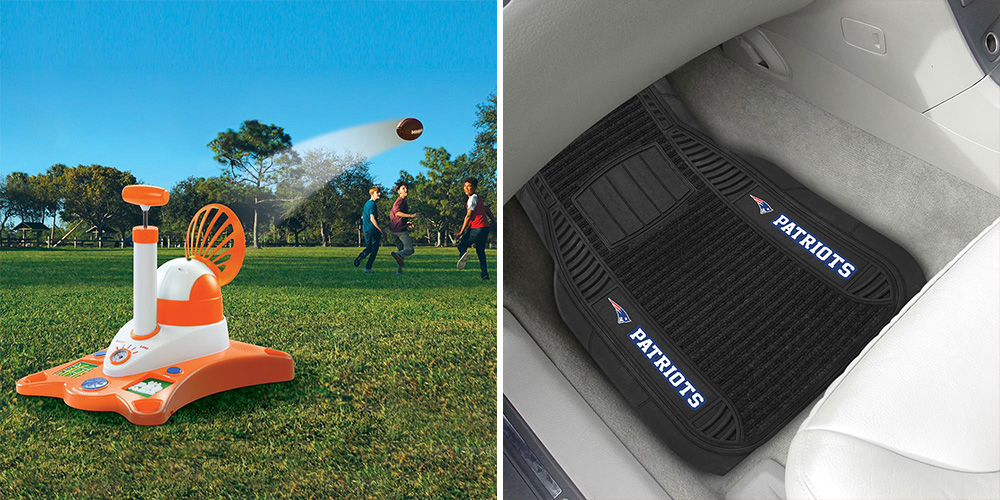 For most Americans the "Big Game" represents a national celebration as much as a football game, so we at Hammacher Schlemmer want to help you put the "Super" in your Sunday with a few products that caps the end of the season.
The NFL Heavy Duty Car Mats places your favorite team - or a most despised rival - at your feet, protecting a car's floor the same way an offensive line protects the quarterback with built-in carpet channels that capture water, dirt, and mud from shoes. Can be trimmed for a custom fit.
For those who can't wait to get outside, The Perfect Spiral Robotic Quarterback launches perfect passes up to 25 yards away with one of nine pre-programmed passing routes. An integrated air pump pressurizes the unit and one need only "go long" after pressing the "hike" button.
The Crystal Clear Football Helmet Display Case provides a see-through acrylic case that displays a prized football helmet - whether NFL, college, or a child's/grandchild's Pee Wee team. The removable cover keeps a helmet safe from dirt, dust, or fingerprints, and it has a mirrored back that allows the helmet to be viewed from all sides.
So pull up a comfy chair and get the snacks and beverages ready, kick-off time is almost here! No matter the outcome of the game, these unique gifts will ensure that your "Super" Sunday lives up to the hype.
AMERICA'S LONGEST RUNNING CATALOG
Copyright 2023 Hammacher Schlemmer & Company, Inc. All Rights Reserved · AZPROD03