Return to Blog
November 7, 2022
A Cornucopia of Thanksgiving Ideas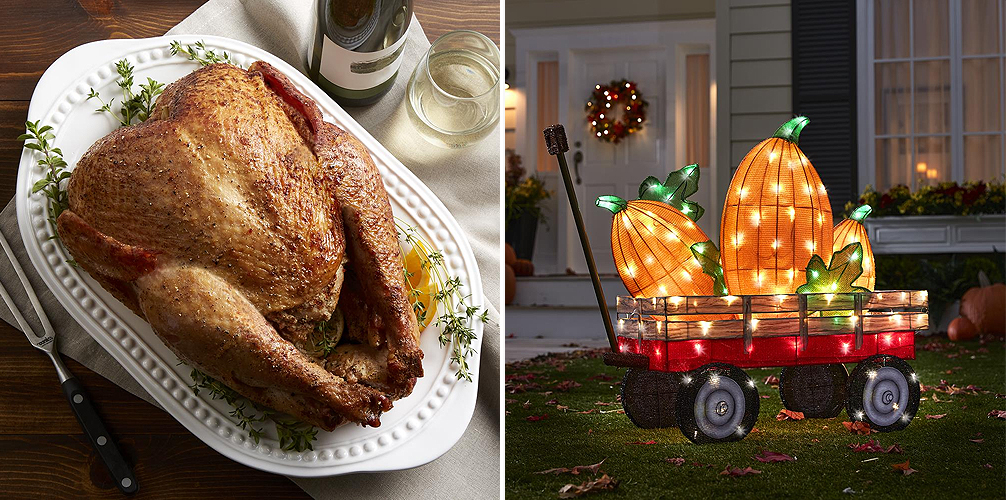 A Cornucopia of Thanksgiving Ideas
Some might say hosting Thanksgiving is the pinnacle of entertaining. Little else distracts from the focus on gathering 'round for the big meal…there are no gifts to give or receive, no religious rituals or ceremonies, and after dinner guests can simply relax over a football game or movie. However, if you're hosting, it's worth looking at a few unique items for yourself to ensure a memorable feast. We have a few suggestions to help you decorate, serve, and entertain your family and friends.
Decorating
For starters, we invite all Thanksgiving hosts to enhance their indoors and outdoors with our selection of autumn themed decorations.
The Twinkling Harvest Pumpkin Wagon is an illuminated display that features a wagon filled with a trio of twinkling pumpkins. Made from iron with fabric covers, the weatherproof decoration stands aglow with 170 red/green/white LEDs against glittering colored fabric mesh. .
In addition, you can decorate for Thanksgiving with The Cordless Prelit Autumn Celebration Trim. Available only from Hammacher Schlemmer, it's a collection of fall foliage that can be hung anywhere indoors or outdoors without requiring access to an outlet.
Finally, a perfect way to adorn a tabletop or mantel is with The Peanuts Giving Thanks Cornucopia. The illuminated decoration showcases the Peanuts characters as they celebrate Thanksgiving. Behind the gang sits a colorful cornucopia illuminated with LEDs and the phrase "We are thankful" sculpted across its front.
Dinner
When it comes time to serve guests, we recommend considering The Chardonnay Infused Herb Smoked Turkey. The American-raised turkey has been infused with chardonnay wine, hand-rubbed with herbs, and smoked for 22 hours over hickory for a truly impressive holiday dinner. This Grade A bird ships fully cooked and frozen for easy oven reheating and serves up to 10 people.
We also realize not everyone enjoys turkey, so The Award Winning Peppered Smoked Ham might be an alternative to remember. Bone-in with no water added, it captured judges' tastebuds at the International Fancy Food Show in New York. Just like our turkey, it arrives fully cooked and only requires warming in the oven.
An essential piece of kitchen equipment are knives, and The Forever Sharp French Chef's Knives will take care of all cutting, slicing, and dicing needs well beyond Thanksgiving for the next 25 years. Made in Thiers, France, their blades are made from hardened stainless steel and titanium carbide that is bonded to the steel using a 7,000° F laser.
Entertainment
Once the eating is done, watching the game – even if you're a cable-cutter – is made easy with The 24" Portable TV/DVD Player, which picks up HD stations (in addition to playing DVDs). It can be powered with an included AC and DC chargers for use on a porch, garage, or as an additional screen during the big game.
The DVD Playing Projection Cinema provides an alternative for those who need to keep children entertained while the adults relax in the gloaming by transforming any indoor room into a high-definition theater that plays video games or Hulu, Netflix, or Amazon Prime content via your preferred streaming stick.
Holiday entertaining isn't always easy, but with careful planning, you can be more relaxed and truly enjoy hosting Thanksgiving dinner.